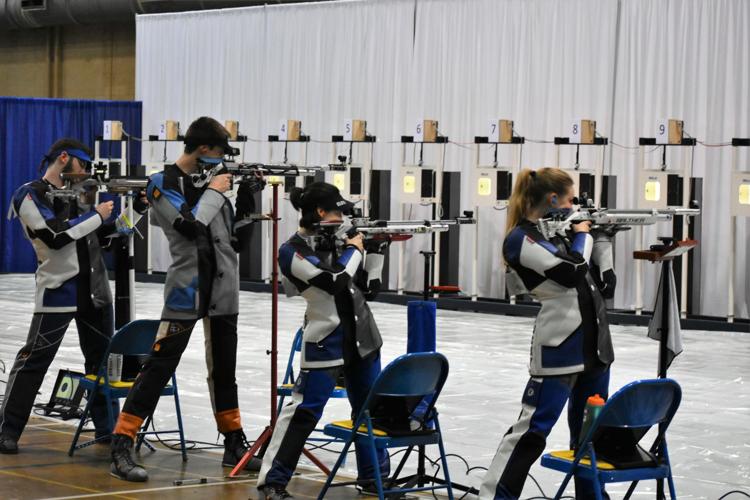 On the road to claim a possible 20th national championship, the fourth-ranked Mountaineers claimed their 10th consecutive GARC conference title in the process.
In a two-day event that saw the smallbore competition played on Friday, the Mountaineers like they have been all season, were victorious.
In the smallbore competition the Mountaineers claimed victory with a winning score of 2342. Leading the way was Morgan Phillips, who had a match best 461.0 mark. Phillips won the individual title with her mark. Ginny Thrasher followed suit with a 460.3 mark for a second-place finish. David Koenders placed in fifth with a 419.8 finish. Sarah Osborn placed in 13th with a 579 total, and Milica Babic finished the Mountaineers' score with a 43rd-place finish with a 570 score.
Jared Eddy placed in 24th with 576, Noah Barker placed in 36th with a 472 total, Will Anti finished in 48th place with 569, followed closely by Verena Zaisberger who came in 49th with 567.
On Saturday, the Mountaineers won the air rifle competition with a total of 2373.
Leading the way was Zaisberger who lead the way with a 598 total. Thrasher came in second-place with a 596 finish. Babic finished in fifth-place with a 594 total and Phillips finishing just behind with a 593 mark.
Anti came in ninth-place and just missed qualifying, with a season-high 591. Koenders came in 16th with a 590 total, Osborn shot 588 for 24th place, and Eddy rounded out the Mountaineers with a 586 total and 32nd place finish.
In individual competiton, WVU had four participants: Milica Babic, Verena Zaisberger,  Morgan Phillips, and Ginny Thrasher who won her third consecutive air rifle title with a 249.4 score.
The Mountaineers already qualified for the NCAA Championship and will prepare for the next two weeks when they compete for their 20th National Title on March 8-9.