The Mountaineers finished the regular season with a dismal 4-14 record in duals in coach Tim Flynn's first year.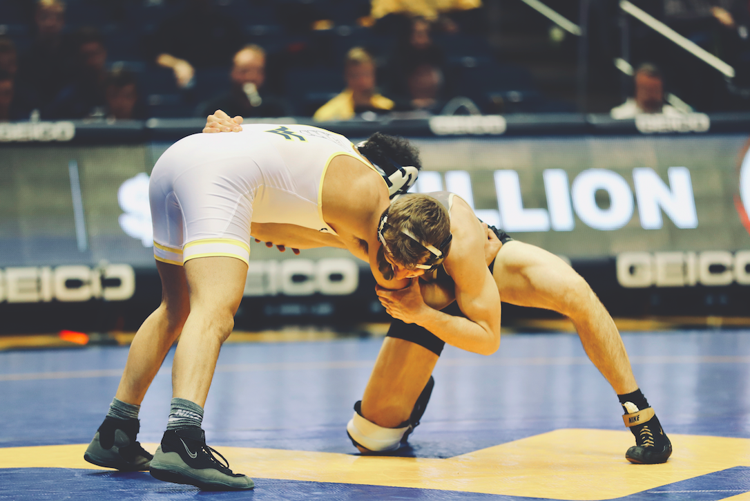 However, the team went 3-6 in what the NCAA sees as the second toughest conference in wrestling, based on the qualifier allocations, the Big 12 was given 53 automatic qualifying spots, second only to the Big Ten with 78.
Five Mountaineers were ranked in the most recent coaches poll including three underclassmen. The poll ranks the top 33 wrestlers in each weight class, which is the same number of wrestlers that make the national tournament from each class.
The highest ranked Mountaineer is redshirt freshman Matt Schmitt at No. 16. Wrestling in the 133-pound weight class, Schmitt has 14 wins on the year. Schmitt is the only Mountaineer in this group to have qualified for the NCAA National Tournament before.
Coming up next is redshirt senior Christian Monserrat ranked at No. 17 in the 149-pound weight class. Monserrat is also the team leader in total wins with 20 this season.
West Virginia has two young wrestlers both coming in ranked No. 26 with Nick Kiussis in the 165-pound weight class with 18 wins, the second most wins on the team. Kiussis was the only wrestler to score points for the Mountaineers against No. 3 Oklahoma State and No. 16 Iowa State in late January. The other young wrestler ranked at No. 26 is Noah Adams the redshirt freshman wrestling in the 197-pound weight class. Adams and Schmitt are tied with 14 wins, the third most on the team.
The final Mountaineer is the heavyweight junior Brandon Ngati, ranked at No. 30. Ngati has 11 wins on the season.
Of the five Mountaineers, Brandon Ngati is the only wrestler that is ranked lower in his conference weight class than the number of automatic bids given. Ngati is the No. 7 heavyweight in the Big 12, but only the top six will make it to the national tournament. However, he can still make it by placing in the top six or being chosen as one of the 44 at large selections.
As for the rest of the Mountaineers, Schmitt is No. 5 in the Big 12 at 133, a class that will only be taking five wrestlers. Monserrat is ranked the highest for his weight class in the Big 12 coming in at No. 4 in the 149-pound class, which will take the top seven wrestlers. Kiussis wrestling at the 165-pound weight class is No. 6 of six that will make it from the conference. Finally, Noah Adams is No. 7 of seven at the 197-pound weight class.
The Big 12 tournament starts Saturday and goes through Sunday. Brackets and seedings for the NCAA Tournament in Pittsburgh will then be released at 6 p.m March 13 on the NCAA website.