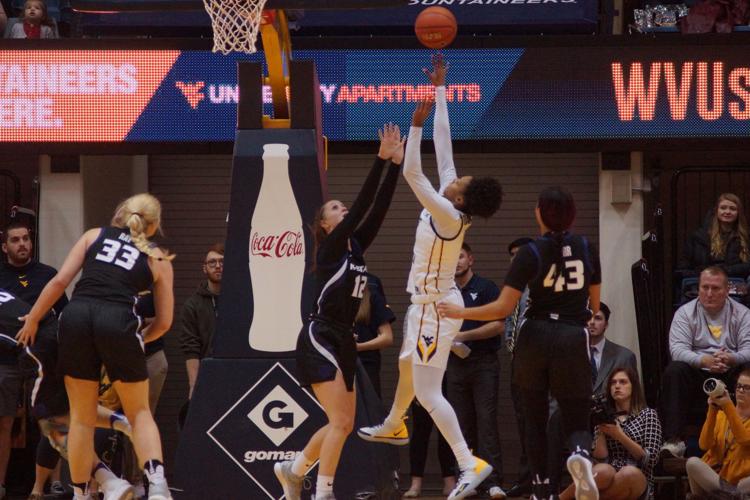 As the Kansas State Wildcats traveled to Morgantown on Saturday afternoon, the WVU women's basketball team was able to pick up the win, 60-30.
Thanks to a strong third quarter, the Mountaineers were able to pick up their first home win against the Wildcats since 2017. With the victory coming on the heels of a win against Texas Tech last Wednesday, the Mountaineers (14-5, 5-3 Big 12) are now riding a two game winning streak.
"It was a total team effort," WVU head coach Mike Carey said postgame. "I thought this was the best defense overall for 40 minutes that we played all year."
By winning the opening tip off, Kansas State came out with the early edge as, coming in to Saturday's game, West Virginia had a 1-4 record in games when they lose the opening tip.
However, after keeping the score close in the first quarter, WVU was able to create some space between the two teams in the second. Led by senior forward Naomi Davenport, the Mountaineers opened the quarter with a 7-0 run.
Despite Kansas State (13-7, 4-4) putting forth their best effort to mend the deficit, West Virginia entered halftime with a 24-16 lead.
Coming out for the second half, the takeover by the Mountaineers continued.
As Davenport achieved a double-double midway through the third quarter, West Virginia continued to get the better of Kansas State on the court. Thanks to a strong overall team showing, the Mountaineers were able to build a lead of 22 points as the clock ticked down on the third.
The strong performance continued throughout the rest of the game, leaving West Virginia victorious. The 30 point win was their biggest victory since beating Niagara by 52 on Dec. 29.
WVU finished the game shooting 22-for-55 from the field, converting 40 percent of their shots. On the other hand, the strong defensive pressure from the Mountaineers on Kansas State left the Wildcats only knocking down 20 percent of their own field goal attempts.
"We always try to take pride in our defense, and tonight it really showed," Davenport said after the game. "I said in the locker room after the game [that] we had a lot of defensive breakdowns in our eyes, and we still held [Kansas State] to 30 [points]."
Davenport later added, "It's just a matter of focusing on our gameplan."
Key contributors for the Mountaineers include junior guard Lucky Rudd and redshirt junior guard Tynice Martin, who both barely missed out on double-doubles themselves. Rudd finished with 12 points and eight rebounds, while Martin contributed 13 points and nine rebounds.
The Mountaineers will look to ride their recent success on Monday as they travel to Austin, Texas to take on the No. 12 Texas Longhorns. The 8 p.m. tip off will be broadcast on FS1.