In front of their home fans on Friday night, the No. 1 seed West Virginia baseball team defeated No. 4 Fordham 6-2 on the first day of the Morgantown Regional.
Outside of a first inning run, the West Virginia pitching staff managed to put the clamps on the Fordham offense, allowing little to happen at the plate for the Rams.
In the top half of the first inning, a one out single off of the bat of junior infielder Matt Tarabek managed to drive in the game's first run.
From then on, Fordham (0-1 in regional) struggled to make anything happen. West Virginia starter Nick Snyder managed to limit the Rams at the plate, allowing only one run on four hits while striking out six and walking three in five innings on the mound.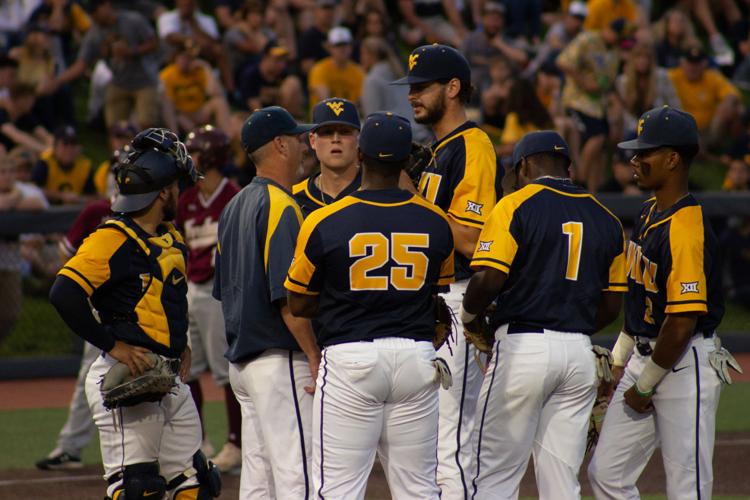 Following Snyder's performance, the Mountaineers turned to junior right-hander Kade Strowd out of the bullpen. Strowd was able to follow Snyder by turning in four innings of no-hit ball, striking out four and walking three while allowing one run that came on a throwing error from the WVU defense.
"Snyder just battled," WVU head coach Randy Mazey said. "He just battled and pitched out of trouble. Strowd came in [and] battled." Mazey later added, "They made big pitches when they had to."
At the plate, the struggles faced by the Fordham offense did not take effect on the Mountaineers (1-0).
A strong third inning where the WVU lineup was able to bat around managed to rattle Fordham starting pitcher John Stankiewicz — allowing the WVU offense to take advantage early.
Following a walk and a single, junior outfielder Brandon White reached home safely after a wild pitch ball four presented an opportunity for the speedster.
After senior outfielder Darius Hill drove in a run off of a sacrifice fly, Stankiewicz walked three straight batters. Once White came around to score again following the third walk, Fordham head coach Kevin Leighton opted to go to his bullpen — a move that proved beneficial as the Rams managed to catch a break when reliever Matt Mikulski needed to face one batter to get out of the inning.
However, as the game progressed, the Mountaineers were able to add insurance.
In the bottom of the sixth inning, leadoff hitter Ivan Gonzalez managed to draw a walk. Two batters after junior infielder Kevin Brophy followed with a single, sophomore infielder Tyler Doanes drove in both baserunners with a double.
Once the ninth inning came around, Strowd needed to face only five batters to close out a West Virginia victory.
The Mountaineers will return to the diamond at Monongalia County Ballpark on Saturday as they will take on the Duke Blue Devils (1-0) in the second game of the day. First pitch is scheduled for 7:00 p.m.