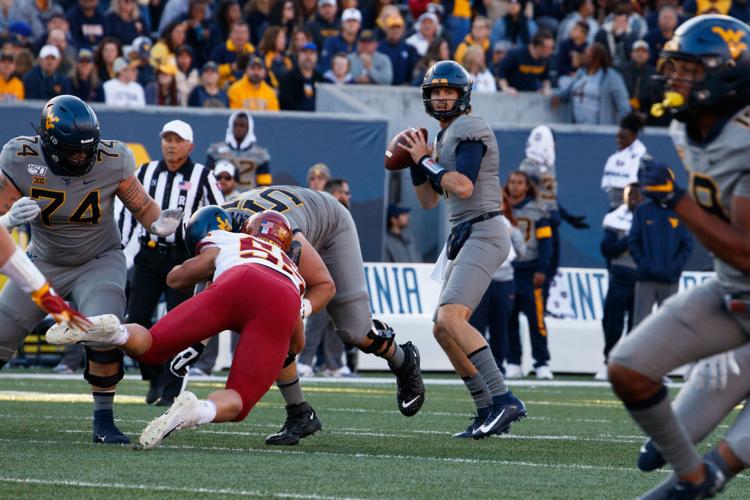 In the ten months since West Virginia quarterback Jack Allison last saw extensive playing time, a lot has changed for the Mountaineers.
The head coach that recruited him, Dana Holgorsen, departed for another opportunity, as well as the entire offensive coaching staff. Last season's top four receivers are no longer with the team. Fresh competition has been added to the quarterback room.
Yet, when Allison's number was called on Saturday, he was ready.
"This is my second year coming in as the second string," Allison said. "Every play my helmet is on, ready for when my team needs me."
Outside of three snaps against Missouri earlier this year, Allison's play in Saturday's 38-14 loss to Iowa State was his first game action since last season's Camping World Bowl on December 28, 2019.
The redshirt junior quarterback stepped in for an injured Austin Kendall after the starter suffered a chest injury from a first quarter hit. 
West Virginia offensive coordinator Matt Moore was worried about how Allison would fare, given his limited reps in practice.
"The hardest part is just making sure you run plays that he got repped at during the week. There's just not enough time in the week to get both quarterbacks reps at all plays," Moore said. "We always have in our gameplan a list of plays for the backup quarterback, but you really bring down your ability to really open up and run a lot of stuff — it condenses what you can actually do. You never want to call a play to a kid that he hadn't ran during the week."
On his first drive, coming with 6:22 remaining in the first quarter, Allison was able to find an open wide receiver in Sam James for a 10-yard gain. The reception was the first completed pass of a span where Allison connected on seven of eight pass attempts. 
Nearing the end of the first half, Allison was able to connect with wide receiver TJ Simmons for a touchdown to tie the game at 14. Come the end of the first half, Allison had only missed on two pass attempts. 
Through the entire second half, Allison only missed on four more passes. One of which, an interception thrown with around six minutes remaining in the fourth quarter, stalled any sort of progress through the air for the rest of the game.
Allison finished out the game, going 18-of-24 passing for 140 yards with one touchdown and one interception.
Despite the circumstances, West Virginia head coach Neal Brown was impressed with Allison's performance.
"I think it's tough when a backup quarterback has to come in and play in a game. I think it's a tough ask for them," Brown said. "I thought he was prepared to play and I thought he did under the circumstances did an okay job."
Brown said postgame that the status of Kendall was not yet known, but that the team would know more in the coming days. Until then, it seems likely that Allison would be the guy for the Mountaineers.