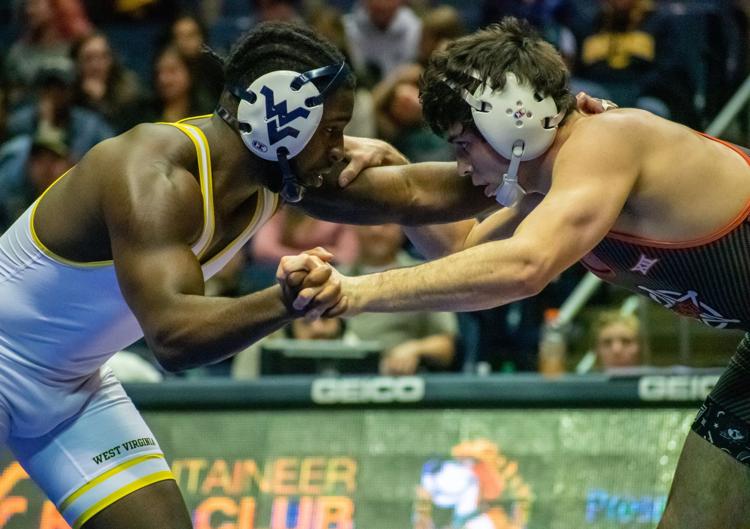 The West Virginia wrestling team lost to the 3rd-ranked Oklahoma State Cowboys on Friday night, 40-3.
It is the fourth-consecutive loss for WVU (2-10, 2-3 Big 12) and second-straight against a top-ten team as they lost to 9th-ranked NC State on Sunday.
West Virginia was completely dominated by Oklahoma State (8-0, 5-0) as the Mountaineers lost the first five bouts, one of which was a pin on WVU's Caleb Rea, and the Cowboys once held a 20-0 lead.
"We have to get better, we got whipped," WVU head coach Tim Flynn said. "They're obviously a very good team, and right now we're not at that level, so we got a lot of work to do. Hopefully we get after it starting tomorrow morning."
The lone bright spot for the Mountaineers was sophomore Nick Kiussis of the 165-pound weight class.
Kiussis was the only Mountaineer to win against the Cowboys, going into overtime against Oklahoma State's Andrew Shomers.
"There's obviously positives," Flynn said. "Obviously Nick pulled out a win in overtime, which in college wrestling is always tough. And that was a guy we knew pretty well in Andrew [Shomers], so that was a big win."
Although Kiussis was out of position to begin overtime after Shomers "had his legs," Kiussis was still able to recover and win the match.
"Nick's a good scrambler and he just came out on top," Flynn said. "He did a nice job wrestling through a position."
The positives ended for WVU after Kiussis' victory, though, as the Mountaineers lost the remaining four bouts.
Following Kiussis on the mat was 174-pound freshman James Wujek. Just like all other WVU wrestlers though, Wujek lost in a technical fall to Oklahoma State's Joe Smith.
With the Cowboys then leading 25-3, it was clear the Mountaineers were not going to be victorious, even if they could win the remaining three bouts.
That, however, didn't happen as West Virginia had to forfeit the 184-pound weight class and then lost the 197-pound and heavyweight classes.
The heavyweight class was lost by WVU through a pin on junior Brandon Ngati by Oklahoma State's Derek White.
Following their dual against the Cowboys, West Virginia now faces its third-consecutive ranked opponent in the 16th-ranked Iowa State Cyclones.
The Mountaineers and Cyclones will meet at WVU Coliseum on Sunday, beginning at 1 p.m.