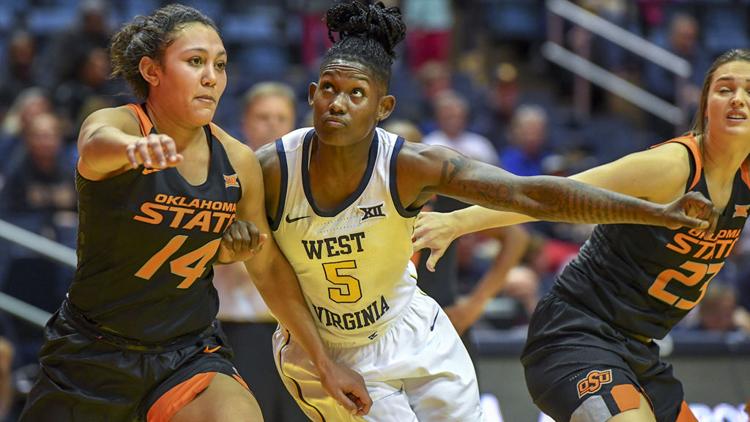 On Saturday afternoon, the West Virginia women's basketball team lost to the Oklahoma Sooners 80-69.
The Mountaineers (20-7, 10-5 Big 12) were sluggish to start which allowed the Sooners to build a 14-7 lead at the first official timeout. Following the timeout, junior Tynice Martin and freshman Madisen Smith led WVU on a 7-2 run to cut the OU lead to two with just under two minutes left in the first quarter.
Oklahoma (7-19, 3-12) would score the only remaining points of the quarter to hold the lead at 18-14 going into the second. West Virginia scored the first basket of the second quarter to make it a 16-18 game, but that would be the only points for the Mountaineers for the first four minutes.
Freshman Kari Niblack finally ended the drought with an and-one layup to put WVU down one. 30 seconds later, Martin gave West Virginia it's first lead of the game with a mid-range jumper to put the Mountaineers in front, 21-20.
The final five minutes saw both teams go back-and-forth to make it a three-point game at the half in favor of the Sooners, 31-34. Through two quarters, senior Naomi Davenport led West Virginia with nine points. Ana Llanusa led Oklahoma with 16 points.
In the third quarter, Oklahoma broke away, shooting 67 percent from the floor to go up by as much as 16.
"The first quarter and third quarter killed us," WVU head coach Mike Carey said. "We kept settling for threes and no one would attack the rim. When we did get layups, we missed them. Then we had opportunities at the free throw line, and we missed free throws."
During the fourth quarter, WVU was able to cut Oklahoma's lead to single digits — eventually nine points. However, poor shooting kept West Virginia from getting any closer as the Sooners closed out the victory by defeating the Mountaineers 80-69.
Llanusa led OU with 26 points before fouling out with 1:39 remaining in the game. Martin led WVU with 22 points.
"I hope it wakes us up," Martin said about the result. "We have important games left to play to get ready for the tournament. We've been able to go on good win streaks, but this loss ruined a lot of the big games that we've won. I hope this shows us that we still need to win important games to get prepared for the tournament."
Up next, West Virginia travels to Manhattan, Kansas for a rematch against the Kansas State Wildcats on Wednesday. The next home game for WVU will be March 4 against the top-ranked Baylor Bears.