After being named a NCAA Regional host on Sunday, the West Virginia baseball team learned who it will be competing against on Monday afternoon.
As the host, West Virginia is the No. 1 seed. Also in the field of play are Texas A&M, Duke and Fordham.
Texas A&M, the No. 2 seed, ended its season with an overall record of 37-21-1, going 16-13-1 in the Southeastern Conference (SEC). After winning their first game of the SEC Tournament, the Aggies dropped two straight to nationally ranked teams and were eliminated.
Head coach Rob Childress' squad features junior infielder Braden Shewmake, who leads the team with a .315 batting average. Junior left-hander John Doxakis has served as one of the top members of the Texas A&M pitching staff, placing in the top three on the team in earned run average, wins and strikeouts.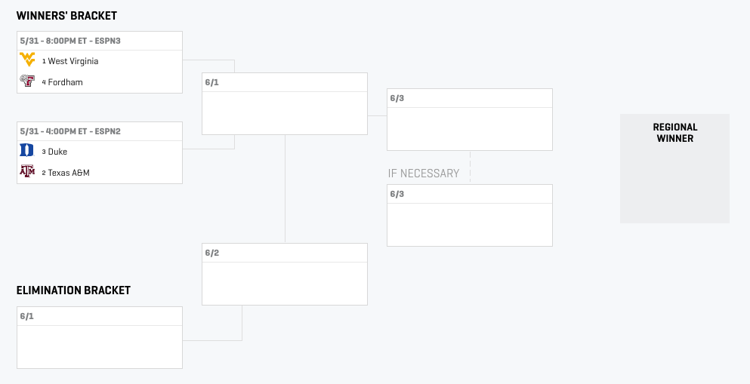 Duke, the No. 3 seed, finished the season having gone 31-25 in overall play while going 15-15 in the Atlantic Coast Conference (ACC). The Blue Devils were eliminated from the ACC Tournament by Georgia Tech after picking up a win over the Notre Dame Fighting Irish.
At the plate, sophomore Michael Rothenberg has led the Blue Devils, as he is first on the team in home runs (10) and runs batted in (49). On the mound, Cooper Stinson has played a role as the freshman leads the team in strikeouts with 78.
Fordham, the No. 4 seed, went 38-22 this season while going 15-9 in Atlantic-10 (A-10) Conference play. The Rams went undefeated over four games in the A-10 Tournament, winning the conference.
Offensively, Fordham features the top two players in the A-10 in stolen bases: sophomore Jake MacKenzie (43 stolen bases) and junior Alvin Melendez (35 stolen bases). Sophomore John Stankiewicz, a member of the Fordham pitching staff, leads the conference in earned run average with 1.21.
Texas A&M and Duke will face off in the region's first game, with first pitch coming from Monongalia County Ballpark on Friday at 4 p.m. The Mountaineers and Fordham will follow with first pitch scheduled for 8 p.m on the same day.
The region is in a double-elimination format, meaning that a team is required to lose twice in order to be eliminated. The winner of the region will move on to face the winner of the Nashville Regional.