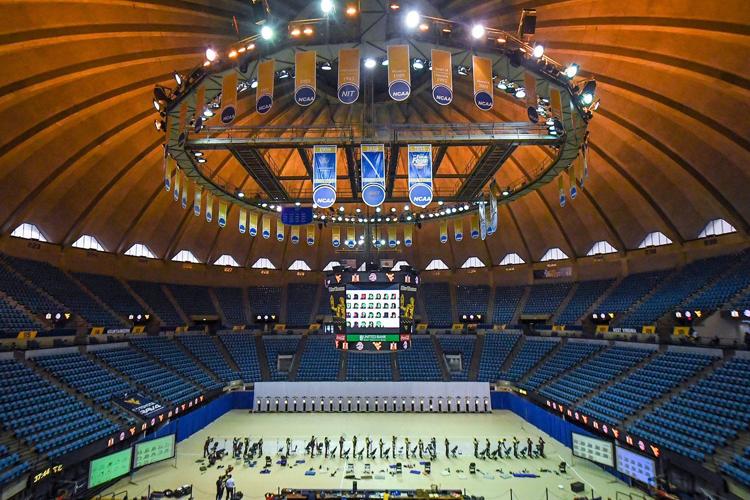 The 3rd ranked team in the country, West Virginia Mountaineers out-dueled both No. 6 Murray State and No. 10 Ohio State in the first-ever rifle match held inside the WVU Coliseum.
The Mountaineers were heavily challenged by both Murray State and Ohio State. The Mountaineers' winning score of 4683 was just four shots better than the Racers' who shot a 4679 total and placed second while the Buckeyes shot 4650 and placed third.
The Mountaineers claimed first place in air rifle with a 2368 total while the Racers shot 2360 placing them second, while the Buckeyes finished with a third-place score of 2352.
The Mountaineers and Racers would swap places in smallbore however, with the Racers taking first with 2319, Mountaineers with 2315, and the Buckeyes finishing with a 2298 landing them in third in both categories.
In air rifle, Ginny Thrasher shot 594 which knotted her a second-place finish. Will Anti shot a season- best 591 which placed him in seventh, Jared Eddy finished in eight with 590, Sarah Osborn finished in tenth with 586, and both David Koenders and Noah Barker shot. 585 apiece which netted them a twelfth-place finish.
In smallbore Thrasher shot 584 which was good enough for second place. Jared Eddy shot a personal-best 581 and a fourth-place finish. Osborn shot 578 for a sixth-place finish, Koenders placed seventh while shooting 577, Babic shot 576 for ninth-place, Anti shot 566 and Barker 565.
On today's performance Mountaineers' head coach had this to say "Overall, there are a few things we can work on tomorrow to continue to grow and improve, and we're excited for the opportunity."
With today's wins The Mountaineers are 25-3 all -time against the Racers and improve to a staggering 46-0 all-time against the Buckeyes.
The Mountaineers are home again on Sunday in the Coliseum as they take on heavyweights No. 2 Air Force and No. 9 Nebraska beginning at 9 a.m.