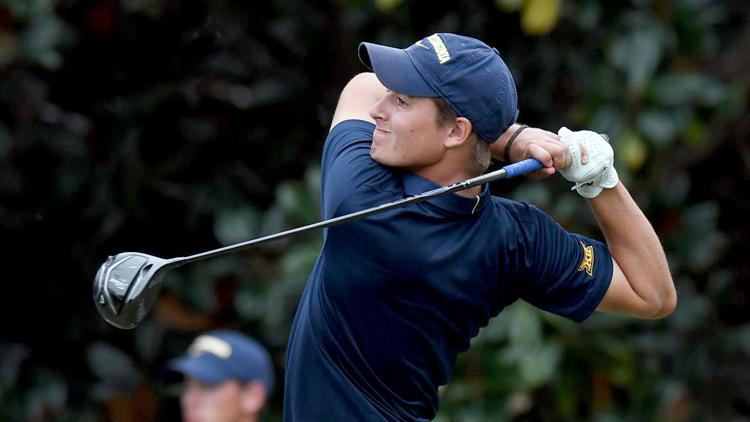 West Virginia men's golf head coach Sean Covich stumbled upon one of the biggest forces in his program's resurgence to a No. 39 national ranking.
One to two months after Covich took over the new refurbished WVU program in May 2014, he was out recruiting in Houston at the U.S. Junior Amateur Championship, looking to build for his first team ever at WVU, which would begin in 2015. He was there watching a player from West Virginia, who ended up being paired with two Canadians – one of them was now WVU senior Max Sear and the other ended up going to Indiana.
Early in the round, Covich noticed Sear. He was impressed with how he was playing.
"After about five or six holes I'm like, 'Man, this little lefty from Canada is pretty good. I wonder where he's going to school,'" Covich said.
Covich ended up doing research on Sear. He found out that he was not committed anywhere and that he was set to visit schools like VCU, James Madison, Virginia and some places in the Carolinas.
So, he talked to Sear at the conclusion of the U.S. Junior Amateur.
"Once the tournament was over, I reached out to him and I'm like, 'Hey, I'm really impressed with you. I'd like for you to come visit us,'" Covich said.
Like Covich, Sear did his research as well. He found out that WVU was starting something brand new. The golf program was dormant since the 1980s, meaning he could help build something special from scratch. WVU also competes in the Big 12, a conference filled with storied programs as three teams are ranked in the top 12 in the country by Golfstat. Plus, WVU's fan support is remarkable.
All of that appealed to Sear, and once he made the trek to Morgantown, his decision was set: he would be a West Virginia Mountaineer.
"Went on my visit, fell in love with the place," Sear said. "I loved how seriously they took the sports down here, how much fan support there is for football and basketball. West Virginia is a pretty big golf state, too, so I figured if we got the golf team back, that would kind of fall in the same category. Pretty much as soon as I went on my visit I knew I was going to go here."
From there, Sear and the WVU golf program have continued to grow. There would be bumps in the road, of course, because it takes time to build things from the ground up. WVU did not have a golf team for three decades.
In his three-plus years as a Mountaineer, Sear has been named WVU golf's Player of the Year twice. He's been an integral part in the teams' ascension to a top-40 ranking, and his accomplishments on the course this season show that more than ever.
At The Health Plan Mountaineer Intercollegiate on Oct. 8-9, Sear came out as the winner on the individual leaderboard at six-under-par for the three rounds. He was the first Mountaineer in three-plus decades to be a medalist, with his performance helping WVU also claim the team title.
He had come oh-so-close before, tying for first at the 2017 East Carolina Intercollegiate before being defeated in a playoff hole, but was never quite there to finish atop a leaderboard. This time, it was different.
It was the perfect storm for Sear in his final ever home tournament.
"It was kind of like a monkey off my back," Sear said. "Being a senior, I've really been so close to winning as an individual and we've got a couple team wins, which is great. Golf is still an individual sport, so it was just huge. The emotions that were going through my mind afterwards that I won by a shot and how close it was and whatnot, it just felt really relieving to finally get the job done and to do it in my last Mountaineer Intercollegiate that I'm going to play."
What stands out about Sear more than anything are his intangibles and leadership. He will admit he is not the most talented golfer, and that's not to say he is not immensely talented. His resume from his high school days to now speaks for itself. He's ultra-competitive, something Covich believes stems from his hockey days. And his 5'10" frame is not one you would think of for a top flight golfer.
He has always had to scrap his way through everything. He grew up around hockey, too, and played all the way up until his senior year of high school. He was not the most talented hockey player or the biggest, so when he was not selected to the highest team in eighth or ninth grade, he understood his hockey dream was probably over.
That never deterred him, though. That lack of size and talent level compared to others never stopped him, whether it was on the course or on the ice.
His dedication will always make up for everything else.
"I've always had a good work ethic and I feel like, especially when I was playing hockey and even in golf, I'm not the most talented person," Sear said. "I need to work hard to see results."
And that leadership is something Covich loves about him. He's a natural leader. Covich does not even have to name a team captain because he has Sear on his roster.
Sear is always the one Covich has engage with recruits and parents. He is always the one that will engage with the new players. He will always engage with volunteers and thank them for their time.
If Sear sees a teammate going a bit off track, he will impart his knowledge and voice his opinion. They respect Sear's opinion and they have a tremendous amount of respect for his work ethic. All of that essentially makes him part of Covich's coaching staff.
Stumbling upon Sear while recruiting someone else became a godsend for the West Virginia golf program, and Covich is overjoyed he became a Mountaineer.
"Luckily, he chose West Virginia," Covich said.