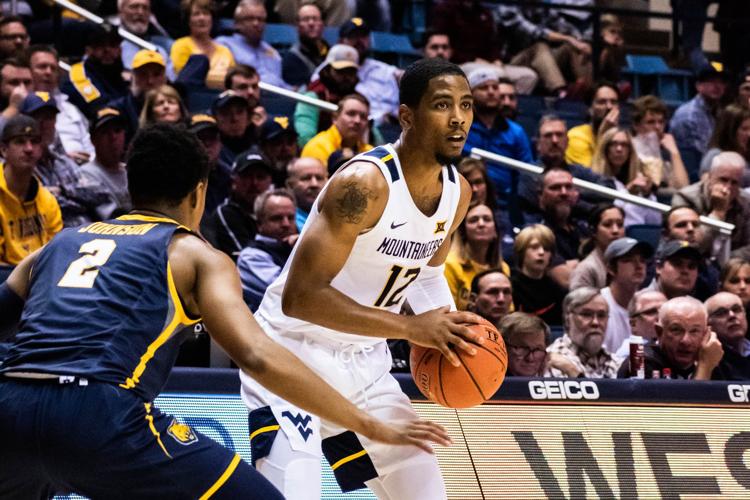 It was just prior to Monday night's WVU men's basketball game when assistant coach Larry Harrison approached Taz Sherman with some good news.
In his third collegiate season, Sherman was pegged to start that night's game against Northern Colorado — his first career Division I start. 
In 26 minutes of action in Monday night's 69-61 win over the Bears, the junior put forth eight points on three-of-five shooting from the field, going a perfect two-for-two from beyond the arc.
"Somebody told me, 'Don't become ready, stay ready,' so I'm always ready for any role I have to take on the team," Sherman said. 
For the junior guard, who joined the West Virginia men's basketball program after spending two seasons at Collin College in McKinney, Texas, it was a long time coming.
Over his two seasons at the two-year school, Sherman developed into one of the top junior college players in the nation. 
As a freshman, Sherman averaged 15.2 points per game. The following year, that number ballooned to 25.9.
In addition to his scoring ability, Sherman averaged 4.8 rebounds and 4.8 assists per game during his senior year, being named a National Junior College Athletic Association (NJCAA) Division I Second Team All-American. 
Eventually, four-year programs came calling. After rewriting six Collin College records, Sherman departed for West Virginia University following his stint with the Cougars. 
Despite the 2019-20 season being in its infancy, Sherman has started to find his groove with the Mountaineers. Through three games, he is averaging 5.3 points per game primarily off of the bench.
However, it would be wrong to say that the adjustments have come without growing pains.
"At junior college, I'm not gonna say it's just easy, but it's definitely easier than this level," Sherman said. "Even (though) we're not in conference play yet, that's (Northern Colorado) a good team over there. I'm not gonna say I can't get by them, but it's definitely easier in junior college."
Freshman guard Miles McBride says that, despite having to adjust to the increased intensity of the competition, Sherman is developing a reputation amongst the team for being reliable.
"His ability to make shots is amazing. When he's playing well offensively, we know we've got to get him the ball because he's really unstoppable once he gets going," McBride said. "Defensively, he's always gonna really stay in front of guys, he's gonna move his feet well, he's gonna rebound — he's just a big-time energy guy."