If the past is any indication, a rough start to Big 12 play does not mean the Mountaineers will have a losing season.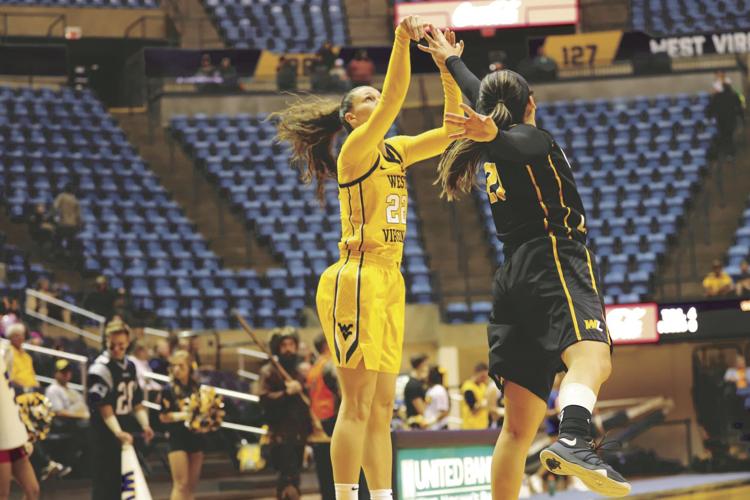 For the last two seasons (2016-17, 2017-18) WVU began conference play with a 1-2 record. Even with that, they ended their season on a high note. After Sunday's win, WVU is 2-2 in conference play.
In the 2016-17 season, the Mountaineers finished with a record of 24-11.
Starting Big 12 play under .500 did not stop WVU from having a successful season. Mike Carey's team beat three ranked opponents in the Big 12 tournament to claim the title.
This was Tynice Martin's best season in a Mountaineer uniform. In the 2016-17 regular season Martin averaged just over 18 points per game, averaged 4.3 rebounds and had 82 assists on the season. She carried her same point-scoring energy into the postseason Big 12 tournament.
In the three games of the Big 12 tournament, Martin averaged just over 27 points per game, four rebounds and more than two assists per game. Included in those three games was a 32-point outing in the final match-up against Baylor.
In the NCAA tournament WVU made it to the second round, losing to Maryland 83-56, capping off the 24-win season.
Last season had a different look as the Mountaineers dealt with injuries throughout the year. The most notable of those injuries was Martin, the 2017 Big 12 Championship Most Outstanding Player.
Having a losing record through the first few Big 12 games and battling through injuries, WVU was still successful in the postseason.
WVU did not create as much noise in the Big 12 tournament but eliminated four teams in the WNIT championship, ultimately losing to Virginia Tech in the semi-final, 64-61 in a nail-biter.
Currently, the Mountaineers started 2018-2019 conference play just as they have the last two seasons, below .500.
With Martin back in the line-up this season after not playing in the 2017-2018 season this campaign could have a similar outcome to that of Martin's sophomore Big 12 tournament run.
Having already played Texas and Oklahoma, West Virginia still has to face Baylor twice and Texas on the road.
West Virginia hit its stride in conference play a few games in the last three seasons and could have a similar outcome, especially with one of their top players healthy.