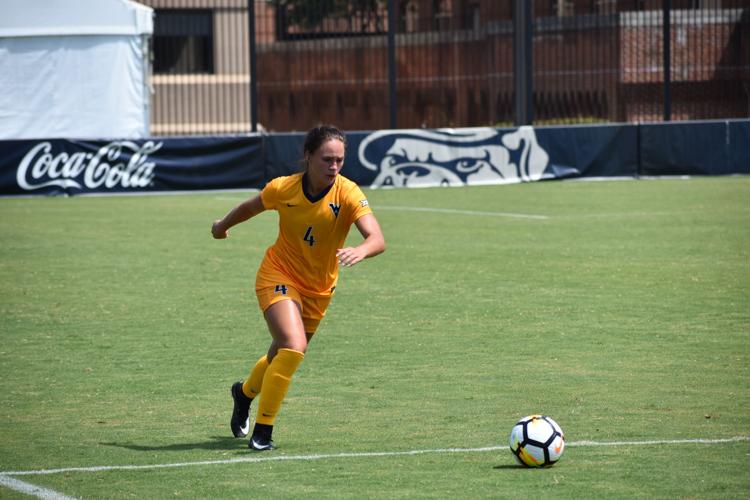 Following a 15-4-4 season, two members of the WVU women's soccer team have reaped the benefits of their success in Thursday's National Women's Soccer League draft.
Both Bianca St. Georges and Grace Cutler will be finding new homes in the league, which is the highest women's professional soccer league in the United States.
"I'm absolutely thrilled West Virginia University women's soccer was able to help in the development of these two athletes to put them in a position to attain their professional dreams," WVU head coach Nikki Izzo-Brown said. "It's always important that my staff and myself focus on the development of our players throughout their four years at WVU."
St. Georges, a defender/forward, was selected with the second pick in the third round by the Chicago Red Stars.
The Quebec native started her four-year stint in Morgantown during the 2015 season, winning 2015 Big 12 Freshman of the Year. Since then, she has grown the many aspects of her game, having been named — most recently — 2018 Big 12 Defensive Player of the Year.
She finishes her career in the gold and blue having started in 80 of her 81 games played. Despite only scoring nine goals during her tenure, she was named a team captain in 2017 and 2018 — proving the impact she had on the Mountaineers' locker room.
Two picks after St. Georges, Cutler, a midfielder/forward, was chosen by the Houston Dash with the fourth pick in the second round.
Cutler came to West Virginia in 2016, after spending a year with Santa Clara University.
Ever since she scored her first goal in a Mountaineer uniform in her second game with the team, she has worked her way into a vital piece to the roster. Starting off working exclusively off the bench in her first season, Cutler came to start every game she played in during her senior year.
She heads to Houston with six goals and four assists in her three seasons with the Mountaineers
St. Georges and Cutler are the second and third senior members of the women's soccer team who have joined the professional ranks, succeeding defender Easther Mayi Kith, who signed with French club Montpellier HSC earlier this month.