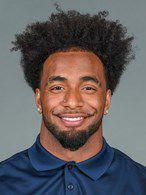 JoVanni Stewart is no longer with the West Virginia football program, head coach Neal Brown announced on Tuesday.
"(Stewart) has made the decision to not be an active participant and, as a result, he is no longer a member of the team this fall," Brown said. 
The senior safety sat out Saturday's game against Texas after playing in the first four games of the regular season. 
Per NCAA rules, a player is able to redshirt in a season after seeing playing time in no more than four games.
In the 2019 season, Stewart started in all four games, totaling 17 tackles. Stewart played in 41 total games in his four seasons at WVU.