The gymnasiums of the WVU Rec Center were alive with the sounds of competition and energy Saturday afternoon.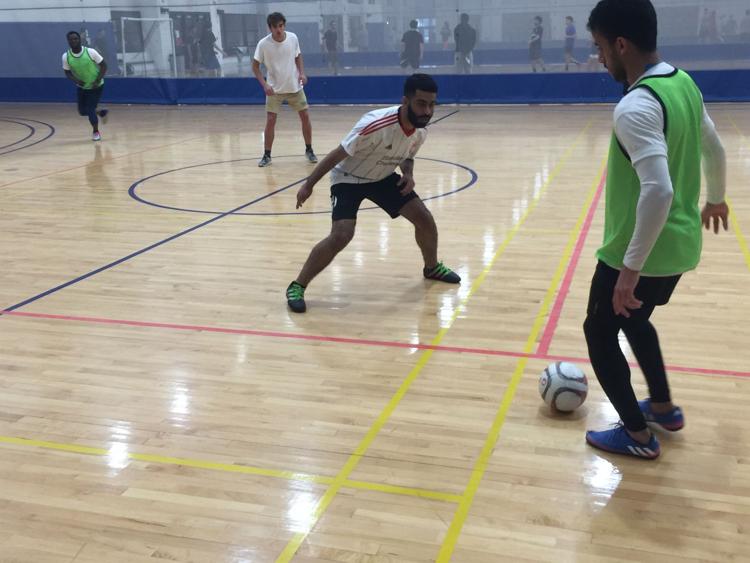 "Run, run," one player in a neon-green jersey shouts to his teammates.
"C'mon, lemme see some feet, lemme see some feet, yeah," another wearing a plain white shirt cries to his own team amidst the sounds of squeaking sneakers against basketball court.
This environment was the creation of Farhan Shaikh, who made WVU's Futsal Club just a year ago. A senior from Mumbai, India, majoring in sport and exercise psychology, Shaikh grew up playing the sport of futsal.
Upon arriving to WVU as a freshman, Shaikh noticed a distinct lack of the sport on the campus.
"There's a lot of diversity of sports here in America," Shaikh said. "But you don't often see futsal."
Shaikh and a few of his friends put together WVU's first futsal tournament last year, during the fall of 2018. Afterward, Shaikh decided to make the futsal club.
"We wanted to be the first to introduce people to this beautiful sport," Shaikh said.
Futsal is a variation of soccer, with roots in South American communities in and around Brazil. Futsal differs from soccer in that it requires a hard surface, such as concrete or basketball court, to play on, and each team is only comprised of five members.
"There's a lot more footwork involved with it," said Lexi Douglas, vice president for the club.
On Saturday's event, both Douglas and Shaikh were hopeful and proud.
"The outcome was amazing today," Douglas said. "The energy here is spectacular. People are involved and are going crazy while playing. It's great."
"We had 20 teams register last year, and 26 teams register this year. People are definitely interested," Shaikh said.
When it comes to the future, both Shaikh and Douglas are hopeful and confident.
"We'd like to increase the amount of people who can play in our tournaments," Douglas said. "Generally, it's been the first 16 teams who register that get to play. So for this year, 10 sadly had to sit it out, but there's quite a few of them here today just watching and cheering their friends on."
"We're hoping to start a traveling futsal team next year," Shaikh said, "Many universities are starting to have them and are competing against one another. We'd like to be able to do the same."
"It's a sport that brings everybody together. We have a huge mix of ethnicities, majors and passions that are all meshing together without an issue because of their mutual connection to this sport," Douglas said. "It's a great way to discover something new that you can love and make some friends along the way."
"We want to educate everybody here at WVU about this sport," Shaikh said. "And invite anybody to come and play with us."