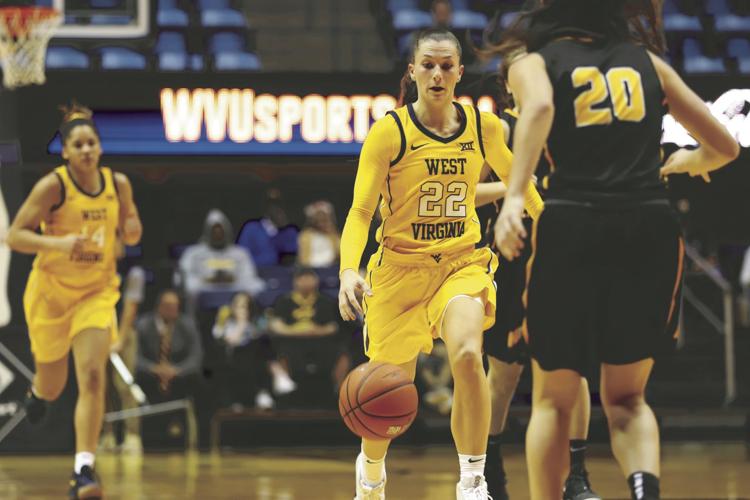 Time to Pardee because Katrina is back
Having missed the team's past 10 games due to injury, senior guard Katrina Pardee saw her first game action since Jan. 9 in Saturday's game against the Sooners.
After taking to the court during pregame warmups, Pardee checked in to a resounding ovation with 5:23 remaining in the first quarter. She knocked down her first basket, a layup, at the 6:52 mark in the third quarter.
In her 13 minutes of playing time, Pardee finished with two points, one rebound and one assist.
"That's always up to the trainer and the doctor," WVU head coach Mike Carey said about the decision to play Pardee. "They felt that she could go a little bit today."
Prior to her injury, Pardee was averaging 13 points per game and just under five rebounds per game.
Consistency isn't a good thing when you aren't scoring
For only the sixth time this season, the Mountaineers entered halftime down in the score column. Despite only being down by three points, they were only shooting 12-from-33 from the field in the first half.
West Virginia finished the game shooting 35.4 percent from the field, making only 23 of their 65 attempts.
"We missed ten foul shots and probably four or five layups," Carey said. "[Oklahoma] had a lot more energy than we did."
Saturday's game against Oklahoma was the team's worst shooting performance since Jan. 23 when they shot 21-for-60 against Texas Tech, good for only 35 percent.
Defensive struggles
After keeping the game close in the first half, defensive struggles in the second half led the Mountaineers to fall.
In the third quarter alone, WVU gave up a game high 24 points. The Sooners also scored 22 in the fourth after scoring only 18 and 16 in the first and second quarters, respectively.
Carey eventually opted to switch to a press defense late in the game, ultimately to no avail.
"I think we just came out slow, and that affected us in every way," junior guard Tynice Martin said. "When [Oklahoma] got going, it was hard to come back from it."