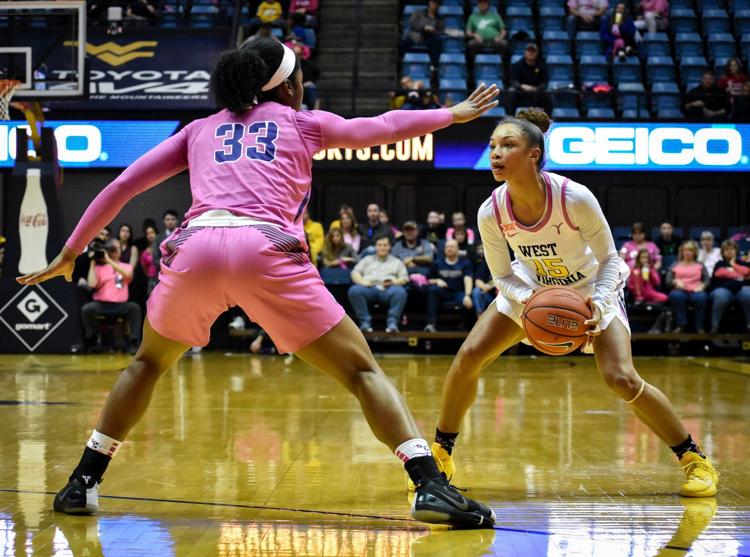 Mountaineers go on critical fast start
Ever since freshman guard Madisen Smith scored the game's first points, the WVU women's basketball team was off and running.
"It was really important for either team," TCU head coach Raegan Pebley said about the fast start. "Whoever was going to have a stronger start was going to have an upper hand."
After Smith's three to open the game, the Mountaineers managed to add four more. The team did not score a single non-three until Smith knocked down two free throws with 2:10 remaining in the first quarter. After a buzzer-beater attempt by junior guard Tynice Martin couldn't fall, West Virginia ended the first quarter with a 22-12 lead.
Coming in to Saturday's matchup with TCU, West Virginia had a 16-2 record in games in which they led at halftime. The offensive intensity continued into the second quarter as the Mountaineers went into the locker room after the first half leading 44-25.
"We were defending," WVU head coach Mike Carey said as being a key contributor to the beginning of the game. "We held them to 25 points [in] the first half and we were hitting shots."
From beyond the arc, the Mountaineers ended the first half shooting eight-for-14. From the line, they entered the locker room knocking down eight of their 10 attempts.
The three ball falls
Perhaps the most important aspect contributing to the Mountaineers' hot start was that of the three pointer.
To start, the team's first five buckets were from beyond the arc. West Virginia continued to add more throughout the game, eventually ending the afternoon shooting 57 percent from range.
"We've been working on it — we've been practicing against a two-three [defense], we've been practicing against a one-through-one [defense]," Martin said. "In order for them to get out of it, we have to shoot the ball well. I think over the last couple of games we've been doing that."
Defensive struggles come late
After laying claim to the first half offensively, struggles came in the second half thanks to the TCU defensive approach.
After scoring 44 points in the first half, the Mountaineers were held to only 35 for the span of the second half. This can be primarily attributed to TCU's utilization of a press defense in which West Virginia struggled mightily against due to their lack of depth.
"There were times I had four guards in there," Carey said. "I mean, my goodness, we won't be able to break the press."
The struggles in the second half could also be attributed to the sense of accomplishment.
"I think we came out slow," Martin said. "You're up 19 at [the] half and you come out relaxed. A team like that [TCU], they have a chance to get back in the game just by playing hard and turning us over."