1. #HornsDown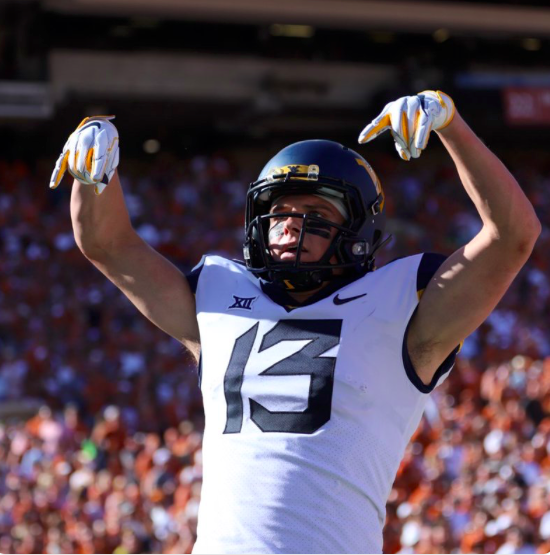 The game that started a movement. In what ended up being the Mountaineers' final road win of the season (and Dana Holgorsen's WVU tenure), Will Grier and wide receivers David Sills and Gary Jennings dazzled a national television audience in a 42-41 win over Texas. With 16 seconds remaining, Grier found Jennings for a 33-yard touchdown to potentially set up overtime. But Holgorsen elected to go for the win and on the two-point conversion, Grier ran to the left corner of the end zone to give WVU the decisive 42-41 win."#HornsDown" became a creed all over campus in the ensuing weeks after the legendary win.
2. Jermaine Haley sinks game-winning layup against Kansas
It's tough at times to find silver linings in a season like the one the WVU men's basketball team just went through. It was a season that seemed to suck the energy out of most of the fanbase and even the team itself.
That being said, one bright spot came on Jan. 19, when Jermaine Haley sunk a layup with eight seconds remaining to down the seventh-ranked Kansas Jayhawks. The win came on the backs of one of the worst losses in Mountaineer history, a 98-67 loss to TCU.
3. WVU hires Neal Brown
When Dana Holgorsen left Morgantown to become the new head coach at Houston, many names were being connected to the new vacancy, with Cincinnati's Luke Fickell and defensive coordinator Tony Gibson being among them.
Athletic director Shane Lyons chose Troy head coach Neal Brown and the fanbase responded well.
"Ladies and gentlemen, I cannot be more excited to be your head football coach," Brown said in his introductory press conference. "We're going to work, we're going to compete, we're going to have fun, at the end of the day, we're going to make you proud. Cue Country Roads, let's go Mountaineers."
4. Izzo-Brown delivers another Big 12 title
Despite finishing second in the conference standings, coach Nikki Izzo-Brown led the women's soccer team to consecutive wins over Oklahoma, Texas and Baylor to clinch the Big 12 Tournament title.
5. Alek Manoah deals consecutive complete game shutouts
In two straight starts at Mon County Ballpark, Friday starting pitcher Alek Manoah delivered two straight complete game shutouts to lead-off series wins over Texas Tech and Kansas.
In both wins, he tossed 15 strikeouts.
6. Huggins: "We're not dead yet."
To end the WVU men's basketball regular season, the Mountaineers went on an improbable run the Big 12 Conference tournament.
With wins over Oklahoma and eventual national finalist Texas Tech, excitement built around the new young WVU basketball team. Along with a famous tweet from head coach Bob Huggins stating that the team "was not dead yet", the fanbase were finally able to rally around the Mountaineers.
7. LeBlanc's troops clinch first-ever MAC title
In their seventh season as a member of the Mid-American Conference, the Mountaineers finally clinched their first title with an undefeated in-conference record.
Winning the MAC clinched WVU their first bid in the NCAA Tournament since 2011, advancing to the second round before losing to Georgetown.
8. Sagaba Konate sets WVU career block mark
In the non-conference portion of Huggins' Mountaineers' schedule, Sagaba Konate saw significant minutes. In West Virginia's 69-59 win over archrival Pitt, Konate's seven blocks secured the program mark for blocks in a career.
The game proved to be Konate's last in the old gold and blue, and he will move on to the NBA.
9. Carey's Mountaineers upset Texas in Austin
In the highlight of the year for the women's basketball team, Tynice Martin hung 27 points on the 12th-ranked Texas Longhorns in Austin, leading to a 64-58 win.
10. Swimmers conclude tenure in Natatorium
In the final swim meet at the WVU Natatorium, the Mountaineer men's and women's teams cruised to wins over TCU. Following the win, current and former swimmers surrounded the pool and sang "Country Roads."