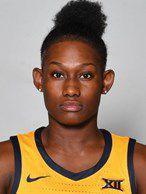 West Virginia guard Tynice Martin was reinstated from an indefinite suspension on Thursday, according to an athletic department press release.
Martin, who had been suspended due to a violation of team rules since August, appeared in Monongalia County Magistrate Court on Wednesday afternoon, reaching a no contest plea agreement on a battery offense dating back to a July incident. 
Martin led the WVU women's basketball team in points last season. A senior, she currently ranks 11th in program history with 1,588 points scored.