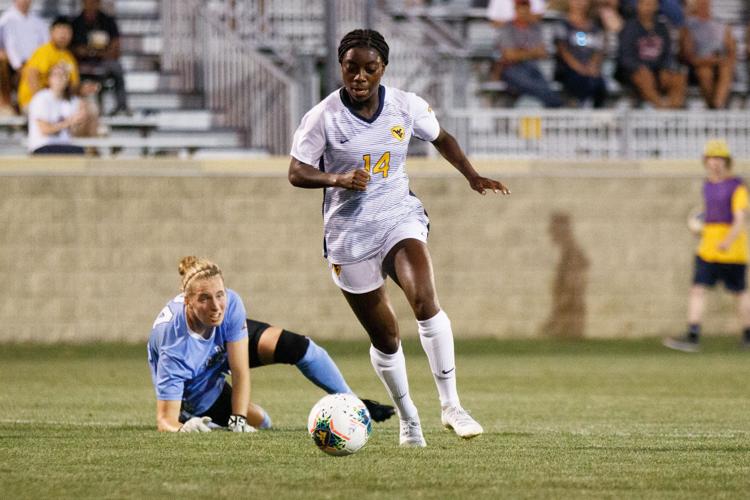 A strong offensive attack from the No. 24 West Virginia women's soccer team was too much for Stony Brook to handle on Thursday night as the Mountaineers defeated the visiting Seawolves in a 6-1 drubbing.
Thursday's game was the first time the Mountaineers scored six goals in a game since Nov. 10, 2018, when the team defeated Radford by a final score of 6-0 in the first round of the NCAA Tournament.
"As a coach, you just hope that next person can step up and do that job," West Virginia head coach Nikki Izzo-Brown said. "(Julianne Vallerand) did it again. Now you've got Nicole Payne who stepped it up. It was great for me to see players take advantage of that opportunity and really do their job."
Vallerand helped the Mountaineers get on the board first as she booted a ball past Stony Brook goalkeeper Sophia Manner in the game's 10th minute.
Vallerand was able to get on the board again in the 62nd minute, to connecting for her fifth goal of the season. The game was also Vallerand's second career multi goal game.
In between the two scores from Vallerand, the forward Payne was able to connect for the would-be game winner in the game's 43rd minute when, after using a juke to knock down Manner, Payne successfully converted a shot while facing a wide open net.
Assisted by sophomore forward Lizzie Mayfield, Payne was able to add her second goal of the night in the 67th minute.
The offensive onslaught continued on as, in the 70th minute, sophomore midfielder Isabella Sibley was able to find the back of the net for her first goal of the season. Later, freshman Gabby Hollar was able to score her first career collegiate goal just before the clock ran out on regulation.
Stony Brook (4-3-0) could only muster up one goal as Erin O'Connor was able to kick one past WVU goalkeeper Rylee Foster in the 61st minute.
Once the clock hit zero, West Virginia (3-2-1) had outshot the Seawolves by an 18-4 margin.
The Mountaineers' next matchup — against No. 15 Georgetown — will take place on Sunday afternoon. The 1 p.m. kickoff against the Hoyas will come from Shaw Field in Washington, D.C.