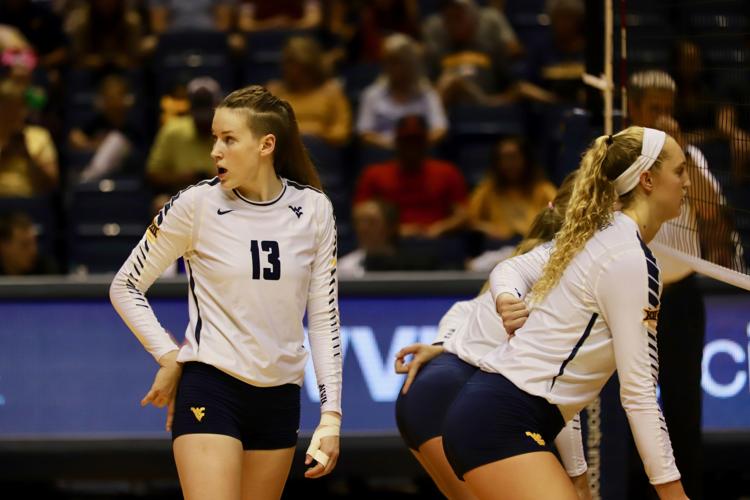 The Mountaineers fall to The Horned Frogs after the fifth set during their matchup Thursday evening in Fort Worth, Texas.
WVU started the night on top with a 25-18 victory in the first set. Levak led the team with a total of 10 kills. After a 16-8 lead by The Mountaineers, TCU takes a timeout to then score four points placing them down five to a score 17-12. Levak and Lux then helped The Mountaineers get to an advantage of 20-14. The set ended with Evans placing a kill on TCU after The Horned Frogs scoring three consecutive points. WVU having a 1-0 lead against TCU.
The second set was taken by WVU, leaving them at a 2-0 advantage. After both teams bouncing points back and forth, and a timeout from TCU,  Lux places a final kill giving The Mountaineers the 27-25 victory.
The team then falls back after TCU takes the victory during the third and fourth sets. The Horned Frogs took back to back wins with 21-25 and 23-25 leads, forcing a the fifth set. TCU then takes the fifth set with a score of 7-15, giving them the 3-2 match win.
West Virginia ended the match with 60 kills, giving four players placing in the double-digits for their second straight match in a row. Top scorer was junior Natania Levak with 15, followed right behind was junior Katelyn Evans with 14. Freshman Kristen Lux ended with 12 kills, while freshman Kristina Jordan reached her career high with 11 kills.
WVU posted 85 digs, while TCU had 94 digs and 65 kills. Senior Anna Walsh led The Horned Frogs with 24 kills, followed by sophomore Allye Beth Deaton with 15. Freshman Katie Clark also saw points with 13 kills.
Noted, the Mountaineers are only three wins away from holding their 700th win in program history.
WVU will take on Oklahoma this Saturday at 2:30pm. This will be their first meeting with The Sooners, finishing their first half of conference play.