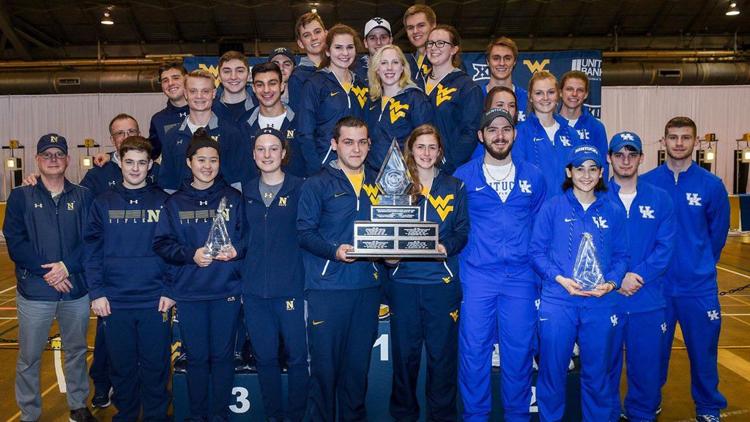 The West Virginia University rifle team is Great American Rifle Conference champions for the ninth consecutive season.
Over the two day conference tournament, WVU accumulated a 4699 aggregate score. On Saturday, the team shot a 2333 score in smallbore and on Sunday scored a 2366 in air rifle.
"I'm sure they each got a lot out of this weekend for preparations for the NCAA Championships," said Head Coach Jon Hammond.
In Saturday's smallbore competition, Ginny Thrasher took home her second career GARC smallbore championship. The winning score for Thrasher was a 454.8. In total, there were three Mountaineers out of eight competing in the final. Along with Thrasher, Elizabeth Gratz finished in seventh and Morgan Phillips was the smallbore runner-up.
"I think we definitely feed off of each other," said Phillips "We end up one and two in most finals we shoot together so it's always fun to have the competitiveness with one of my teammates."
David Koenders just missed qualifying for shooting in the final, as he has a score of 579.
At the end of the smallbore competition, behind WVU, Kentucky was in second and Navy sat in third.
The next day, the air rifle competition was held at the Bill McKenzie Rifle Range in Morgantown.
WVUs winning air rifle score of 2366 was enough to push them over the edge and claim the GARC crown.
The individual final, just like the day before in smallbore, came down to Mountaineers Ginny Thrasher and Morgan Phillips. And for the second straight day, Thrasher bested her teammate. Thrasher shot a winning 250.7 compared to Phillips' second place score of 247.7.
This air rifle title is Thrasher's second straight in this discipline.
Freshman Sarah Osborne joined her fellow Mountaineers shooting in the final, as she placed fifth with a score of 182.4.
"It's great to have three representatives in the final," Hammond said. "It was great to see Sarah qualify for the final at her first conference championship. Morgan and Ginny – this is what they do. They have good battles with each other. They led the way throughout the final with some great shooting.
No. 4 ranked Kentucky just beat out WVU to win the air rifle championship, but it was not enough as UK finished in second place as a team.
"This is a good reminder that there are other competitive teams. While we were able to win the championship, and that's great, there's a lot for us to work on these next few weeks," Hammond said after the match.
The six Mountaineers that counted toward the team's score this weekend were: Osborne's score counted toward smallbore, Will Anti's score counter toward air rifle, along with Thrasher, Phillips, Gratz, and Koenders counting in both disciplines.
The Mountaineers have two weeks to prepare for the NCAA championships in Charleston, South Carolina on March 9-10. West Virginia goes into the tournament as the number one overall seed.