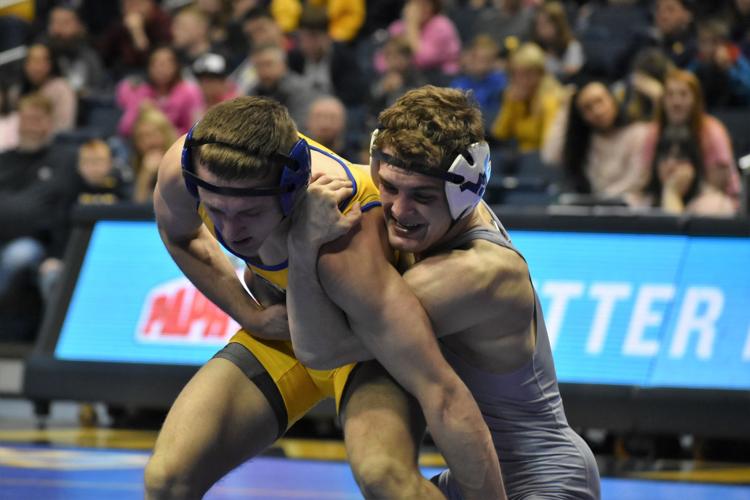 The West Virginia University wrestling team will continue to chug along through their schedule as they set to face Edinboro on Thursday.
After losing a tough 24-9 match to 12th-ranked South Dakota State, the Mountaineers (5-6) are ready to get back on the mat and prove redemption. Last time the two teams faced, last season, Edinboro left Morgantown with a 27-10 win. This rivalry goes back to 1977, and Edinboro leads the matchup 21-11-2.
Although they're a permanent staple on the WVU schedule, Mountaineer head coach Sammie Henson said that it is impossible to scout a team too much.
"We need to be smart and stick to the game plan when we scout Edinboro and scout Clarion," Henson said. "We have to stick to the game plan and follow through. If they do that, I feel confident that we'll do well."
Zeke Moisey will begin the meet as always at 125 has yet to seriously fail the Mountaineers. The 10th-ranked Moisey has gone 19-7 this season and eight of the last nine duals. He's contributed 35 match points, and has been a force to start the lineup with.
"I need to set the tempo right as the first person out there, at 125," Moisey said. "Hopefully these freshmen see that I set the tempo right and they'll be able to go out and keep it rolling for us."
Six freshmen have contributed wins so far this season, but Henson says that despite the age and mindset of the wrestlers, one aspect stays consistent.
"Zeke is a different kind of wrestler, so he's different than Keegan Moore," Henson said. "He wrestles different than Keegan Moore, who wrestles different than Zach Moore, and they're twins. Some of the plan changes, but the foundation of wrestling does not."
Edinboro will enter this match with four wrestlers ranked, to West Virginia's two. Moisey and Jake Smith will round out this season both ranked in the top 20 on InterMat.
"The guys who works harder, the guy who stays in the stance longer, the guy who wins positions, the guy who hustles, the guy who wants it more; that's the guy who usually wins," Henson said.
The match will begin at 7 p.m. and will be available to stream on FloWrestling with a proper subscription. Live stats will also be available on trackwrestling.com.