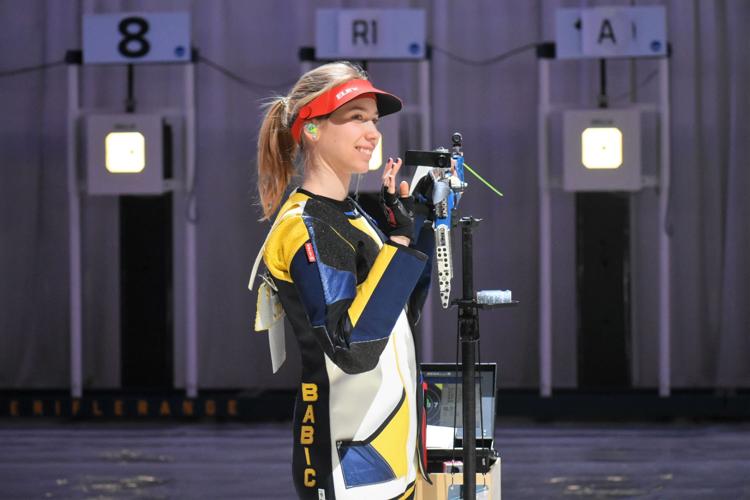 Despite a second relay rally from Ginny Thrasher and Milica Babic, the WVU rifle couldn't secure their 20th national championship, coming in second behind TCU.
After scoring 2331 in the smallbore portion, the Mountaineers struggled in the first relay of the air rifle competition. David Koenders and Sarah Osborn both finished with scores of 587 and Morgan Phillips scored 584 out of a possible 600.
With that early showing, WVU slid from a tie for first down to third place with Air Force taking a five-point lead in second place and TCU leading the Mountaineers by 11. Murray State lurked behind West Virginia by one point.
"I think there's always nerves in a championship like this," WVU head coach Jon Hammond said. "I think we just felt the nerves a little bit this morning and I know the three of them absolutely tried their best. They did a great job of being composed, being as calm as they possibly could under the circumstances."
"It was just one of those days that they struggled a little bit," Hammond added.
Thrasher and Babic fought back for West Virginia in the second relay to cut the deficit. Babic finished with a score of 596 and Thrasher finished with 591. With Phillips' 584 dropped from the Mountaineers' total, their final score of 4699 was enough for a second place finish.
"I think it's very hard to shoot second relay, second day because you don't know any shot could be the difference between winning and losing because you're unaware of the score," Thrasher said. "I feel like we did really, really well."
TCU took the national championships with Kristen Hemphell and Angeline Henry, both shooting 593 in the relays to lead the Horned Frogs, and finishing in the top two in the individual competition. Hemphill just edged out Henry by 0.3 points (on a score of 248.2-247.9) to take the individual crown. Babic, the Mountaineers' only individual competitor, finished in fifth place with a score of 183.5.
In the second relay, Georgia Southern's Rosemary Kramer set a new NCAA record for air rifle with a score of 599. She finished third in the individual competition.
Attendance records show that 2,215 fans came to the Coliseum to watch the event of the two days of action, marking an NCAA record. Hammond mentions that having a large number of fans was both incredible, yet a bit of a challenge.
"It's not often that we get to walk out in front of a thousand people, and certainly for us a thousand people wearing blue and gold and cheering you on," Hammond said. "While that's wonderful and motivating and you can take a lot of pride from it, I'm sure that's a challenging environment as well. It's not something that we're used to. I'm sure our team members can have a lot more appreciation for football players and basketball players that walk out in front of thousands of people week in and week out and are maybe scrutinized for any small mistake they do."
The second place finish marks the second year in a row that the Mountaineers are closing out the season without a national championship, the first time since 2011-12. WVU has finished in the top two in eight of the last nine seasons.