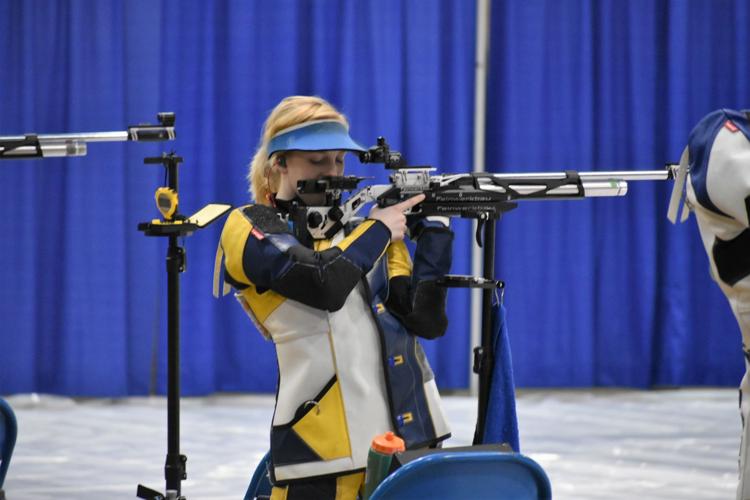 In a week that saw the West Virginia rifle team move up to the top of the national rankings, it also sets them up for a chance to head back to the NCAA Championship for a fifth straight time.
The total score of 4690 will be added to the Mountaineers' (13-0, 8-0 GARC) ranking average which will be used to qualify the Mountaineers for the NCAA Championship.
Leading the way for the Mountaineers in smallbore was Jared Eddy who shot a match-best 583. Sarah Osborn followed behind shooting 582. David Koenders, Ginny Thrasher, and Morgan Phillips all shot 581 for a tie for third place.
Also in smallbore, Will Anti shot for 573 for a seventh-place finish. Noah Barker came in ninth-place with a 571 total while Verena Zaisberger came in tenth-place with 569 and Milica Babic rounded out for the Mountaineers with a 568 total for thirteenth-place.
In air rifle, Osborn led the way with a first-place total of 594, with Zaisberger shooting 592 for second-place. Both Koenders and Thrasher shot 591 for third-and-fourth-place finishes, and Milica Babic was the final Mountaineer to contribute to the score with a 589 total.
Phillips shot 588 for sixth-place in air rifle, followed by Eddy finishing in seventh-place with a 587 total. Barker came in ninth-place with a 580 total and Anti finished off air rifle with a 578 total.
"We're going to have a short week," said head coach Jon Hammond. "We'll try to work on a few things this week...any little improvements. We'll keep the practices short and intense. The upcoming matches are coming pretty fast now, and we'll need to be prepared."
Next weekend the Mountaineers will head to Akron to take part in the GARC Championships. West Virginia is searching for their 10th-straight title.