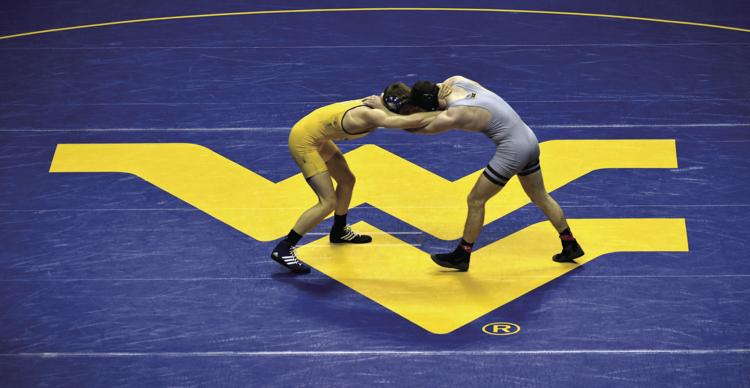 The West Virginia wrestling team took two wins on Friday, beating California State University Bakersfield, 21-16, and Utah Valley, 26-13.
On Tuesday coach Tim Flynn said, "We have a couple of guys that are real close to being top 8 or top 5 guys in the country." Those guys came out strong Friday night as the team went 2-0 on the night.
The Mountaineers (4-11) started off a tight battle against CSU Bakersfield (4-5) with four wins in the first six bouts, including a pin from sophomore Nick Kiussis. Losing two of the next three, the match came down to a heavyweight battle in which Brandon Ngati won a decision 2-1 propelling the Mountaineers to a 21-16 victory their first since late December.
Coming off the first win, the team came out energized to take on Big 12 opponent Utah Valley (8-7). The Mountaineers won their first six bouts including two major decisions and a fall, scoring 23 team points before finally dropping a bout, but losing three of the last four had little effect on the overall score, as the Mountaineers win 26-13. Caleb Rea lost his bout with CSU Bakersfield 17-12 and was substituted for Lukas Martin against Utah Valley and the substitution paid off for coach Flynn as Martin won his bout 13-7.
"I thought we put forth good effort in our second match against Utah Valley," Flynn said on Friday after the match. "It was a great team win, and hopefully, we can carry that momentum into Sunday's match against Wyoming."
The brightest spot coming out of the night was that the team had eight guys win at least one matchup, including four of those eight going 2-0. Nick Kiussis who is ranked 19th in Intermat's Top-20 poll and was the bright spot in the last two losses, continued his personal winning streak and scored nine total points for the team with a fall in his first bout and a decision in his second. The only weak spot for the Mountaineers were the 174 and 184 weight classes who both went 0-2 including Jackson Moomau (184) getting pinned twice but both pins came against ranked opponents. In the first matchup.
The team will not be coming home just yet though, they will be traveling to Laramie, Wyoming to prepare for their Big 12 matchup with 11th ranked Wyoming on Sunday, their 10th ranked opponent. The match will start at 3 p.m.