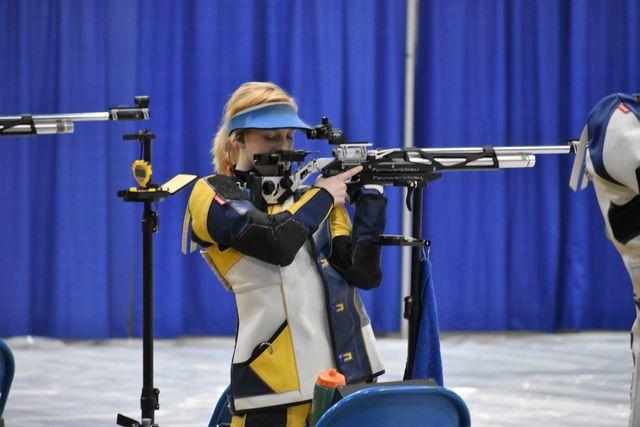 After a two-month hiatus the second-ranked West Virginia Mountaineers rifle team defeated the seventh-ranked Ole Miss Rebels by a final of 4703-4665.
It was a productive day for both smallbore and air rifle rounds for the Mountaineers as they claimed first place in both categories with a 2328 and 2375 respectively.
In smallbore the Mountaineers dominated the top of the leaderboards. David Koenders got first-place overall with a 585 shot total. Verena Zaisberger finished second with 584. Jared Eddy shot 582 for a third-place finish and Ginny Thrasher rounded out the top four places with a 580-shot finish.
Will Anti and Sarah Osborn finished 579 apiece and finished in sixth and seventh-place respectively. Milica Babich shot a 573 and placed twelfth-place finish to finish off the smallbore portion.
In the air rifle portion, the Mountaineers dominated the top of the leaderboards once again. Koenders, Zaisberger, and Babic all shot a round-best 594 which granted them first, second, and third place finishes. Jillian Zakrzeski of Ole Miss also shot 594 which granted her a fourth-place finish.
Thrasher placed fifth with a shot total of 593, which rounded out the Mountaineers total score for air rifle. Anti shot 588 for a seventh-place finish with Osborn placing ninth with a 587 total. Eddy finished the day for the Mountaineers with a 58s total.
With the victory the Mountaineers move to 11-0 (6-0 GARC) and move to 15-3 all-time against Ole Miss, who fall to 3-6 (2-4 GARC) on the season.
The Mountaineers are home next week in a matchup against Navy, while Ole Miss looks to rebound on Feb. 2 against Nebraska.