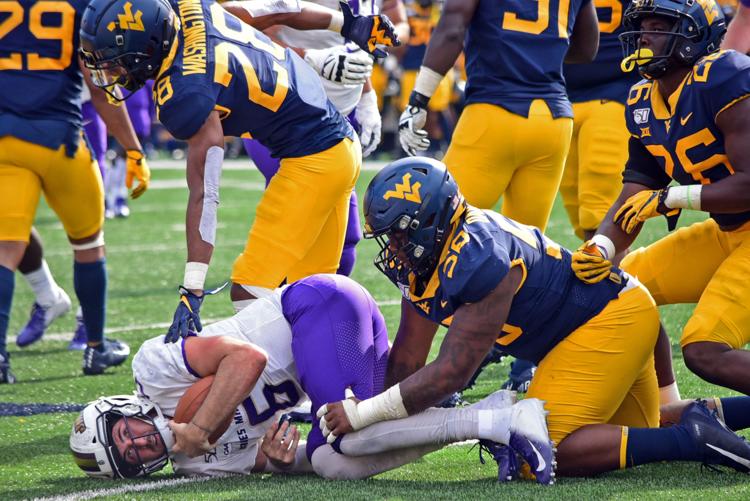 With a 20-13 win over the James Madison University Dukes on Saturday, the WVU football program pushed its all-time record against FCS opponents to 20-0.
Despite the gap in talent between FBS and FCS programs, WVU did not take JMU lightly.
West Virginia coach Neal Brown said he had been impressed while watching the tape of the Dukes and knew the Mountaineers would be playing good team.
"They're a veteran group. This atmosphere was not too big for them," Brown said. "I think our depth in the second half worn on, especially our defensive line versus their offensive line."
The seven-point win was the closest an FCS team has gotten to beating WVU since the College of William and Mary also lost by only a touchdown in 2013.
Redshirt senior offensive lineman Colton McKivitz has played against FCS schools in the past and said it is important not to take those teams lightly.
"Those guys want to be in our shoes and that's kind of the biggest thing really, this is kind of their Super Bowl, and they're just going to come here and play as hard as they can to show scouts and the country really what they have to offer," McKivitz said following the game. "I think they did a really good job today of showing us that we have to respect those kinds of teams."
WVU first played an FCS opponent in 1978. That season, the Mountaineers were only able to pull out two victories that season, one of which was over the University of Richmond Spiders by a score of 14-12 at Old Mountaineer Field. 
The two teams matched up three more times in the next fours years, in 1979, 1980 and 1982. The 1979 game was played in Richmond and was another two-point victory, 20-18. 1980 was another close game, 31-28, and 1982 was finally a convincing win for the Mountaineers, 43-10.
WVU then took a two-decade break from playing the FCS, with the next matchup occurring in 2002 against the University of Tennessee at Chattanooga. This began a period of dominance for West Virginia over FCS opponents, with only the aforementioned William and Mary in 2013 and Liberty in 2009 even coming within two touchdowns of the Mountaineers.
Other than in 2001, 2003 and 2007, the Mountaineers have defeated an FCS opponent every year of the 21st century. With FCS teams on the schedule every year until 2024, the Mountaineers will have ample opportunity to push their FCS winning streak even higher.