After defeating the Oklahoma Sooners on Sunday, this is the sixth straight season in which the WVU women's soccer team has advanced to the semifinals in the Big 12 Tournament.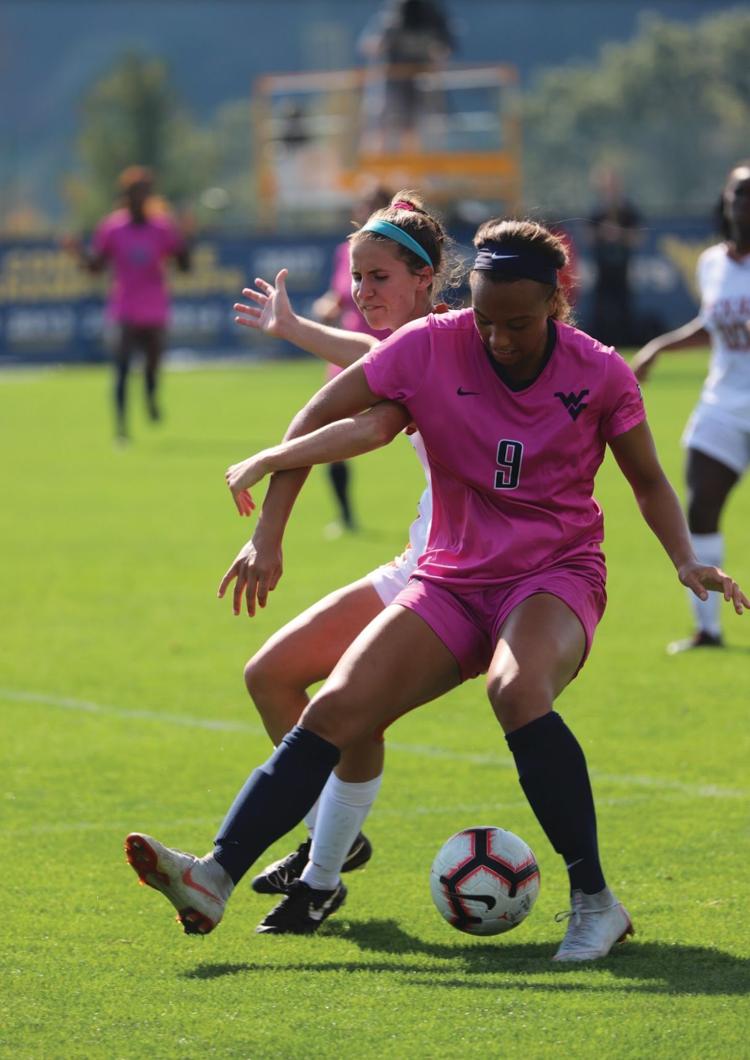 "We felt that we had unfinished business against Kansas. We were disappointed in the loss," head coach Nikki Izzo-Brown said in a phone interview on Monday when asked about bouncing back from the regular season finale. "It was really important for us to take care of business and do what we needed to do this [past] Sunday."
Up next for Izzo-Brown's squad (12-4-3) are the Texas Longhorns in a battle that pits the second and third seeds of the tournament together.
The two teams last met on Oct. 7 in Morgantown. Despite an early goal from sophomore Texas midfielder Haley Berg, senior WVU defender Bianca St. Georges was able to add two scores in the second half and send the Longhorns back to Austin with a 2-1 loss.
"I think both of us got a little bit of a sense of each other and a feel for each other," Izzo-Brown said about the season's earlier matchup. "It's one thing to play Friday [or] Sunday — everybody is a little bit tired or a step behind — but we have a good feel for [Texas]. We also know both teams will be fresh Friday, and Texas has a great side, so it's going to be a huge battle."
The Longhorns (13-3-3) come into this match having defeated No. 6 Kansas on Sunday in penalty kicks. They entered the conference tournament having gone undefeated in games at home, and they have scored three or more goals in seven games so far this season.
"They move the ball extremely well. It's definitely going to be a different game than what we saw in Morgantown," Izzo-Brown said about Texas. She later added, "It's definitely going to be a very, very tight game. It's going to be a great soccer match."
Both teams have the talent for a good battle. The Big 12 Conference recently announced awards for the season, giving the Mountaineers four players named to the All-Big 12 first team. Texas has two. The game will also be a matchup of the conference's Offensive and Defensive Players of the Year—Texas' Cyera Hintzen and WVU's Bianca St. Georges, respectively.
Additionally, in the United Soccer Coaches poll that was released on Tuesday, the Mountaineers sit at No. 14. Texas is only a few spots behind at No. 18.
The Mountaineers will be spending the current week in Kansas City, Missouri — the location of the tournament — due to travel concerns.
Regardless, the Mountaineers won't be able to compete for a championship if they aren't running like the well-oiled machine that they have shown at times during the season.
"Everybody needs to just do their job," Izzo-Brown said. "That's been my battle cry all year long. Just do your job, worry about your job. If everybody does their job and does their positions, we're going to be fine."
"I don't think one player has to outperform another," she said. "I think everyone has to get a little bit better as the week goes on and just do their job on Friday."
The matchup will take place in Swope Soccer Village in Kansas City, with kickoff slated for 7 p.m.