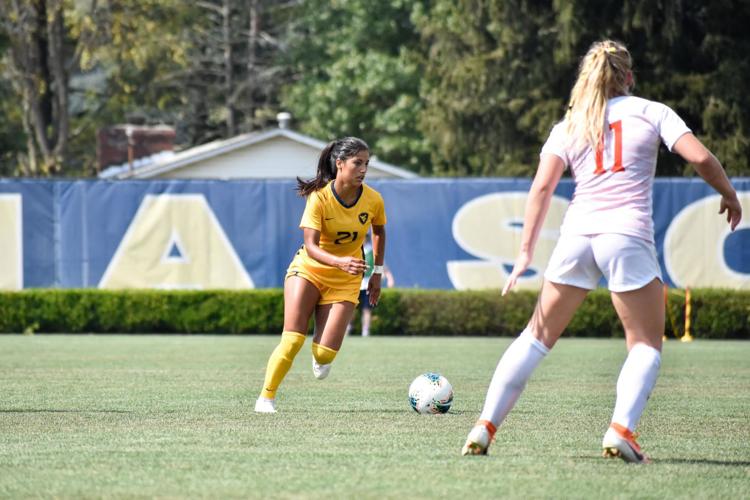 The West Virginia Mountaineers wrapped up non-conference play on Sunday with a 2-0 home win against the Bowling Green Eagles.
It didn't take long for WVU (5-3-1) to continue the momentum from its win on Friday with a quick goal in the first two minutes from sophomore forward Alina Stahl. From there on out, however, the match turned into a defensive battle.
WVU head coach Nikki Izzo-Brown wasn't surprised by the physical play from the Eagles.
"Their record doesn't reflect what type of team they are," Izzo-Brown said. "We knew that we were going to have our hands full today and that we had to find the back of the net."
The Mountaineers had six shots in the first period, but Bowling Green (2-4-2) kept them out of range for nearly 30 minutes between the end of the first period and the beginning of the second. It was a fight, but with less than 10 minutes to go, Stahl scored her second goal of the day to push the lead to two for West Virginia.
Stahl was very excited about scoring two goals, but she was mainly happy that she contributed to the win.
"It's exciting, but more for the team though," Stahl said. "I couldn't be more excited moving forward to Big 12 play."
Izzo-Brown was very impressed with Stahl's performance as well.
"It's incredible with what Alina [Stahl] was able to do," Izzo-Brown said. "She had a couple other opportunities, but I'll take two and not get greedy."
Bowling Green finished with 11 total shots, with five on goal. WVU had 10 total shots, with six on goal in the victory.
The Mountaineers get a break until Friday when they begin conference play at home against Iowa State. The match will be at Dick Dlesk Soccer Stadium at 7 p.m.