West Virginia traveled to Laramie, Wyoming, on Sunday to take on 11th-ranked Wyoming.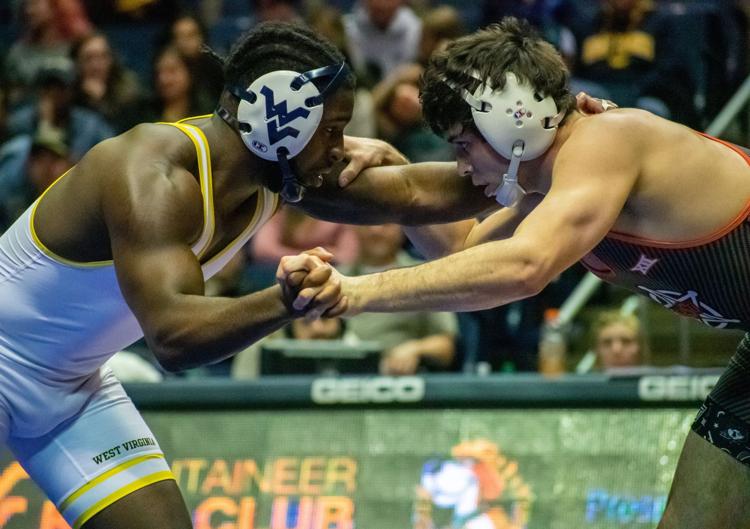 The Mountaineers struggled throughout the afternoon and lost 33-15. The loss dropped West Virginia to 4-12 on the season with two matches remaining. 
It didn't take long for Wyoming to send the Mountaineers home Sunday as the match lasted less than an hour. Wyoming won a match by forfeit and both of the ranked-versus-ranked bouts. 
Only three West Virginia wrestlers won their matches. Zach Moore and Noah Adams each won 6-0, while Christian Monserrat won 3-0. James Wujek and Jackson Moomau both continued their struggles from Friday night, each losing 6-0. 
Arguably the most highly anticipated match of the evening was when Nick Kiussis and Branson Ashworth battled at 165 pounds. Ashworth won the match by decision, 2-0, to add three points to Wyoming's total. It was a tough loss for Kiussis, who, according to Intermat, is ranked No. 19 in the nation in the 165 pound weight class. 
"We are getting better," WVU head coach Tim Flynn said. "Noah had a big win today, and Christian and Zach also wrestled really well. We are excited to come back home and wrestle in front of Mountaineer Nation at the Coliseum on Friday."
With this win, the Cowboys have won eight straight. Five of those victories have come by double-digit points. 
West Virginia has had a tough season, as Wyoming was the tenth-ranked team that they have faced.
West Virginia returns home this Friday as they host their final home match of the year against Army. It will be Senior Night for Joe Wheeling and Christian Monserrat. The match is scheduled to start at 8 p.m. at the Coliseum.