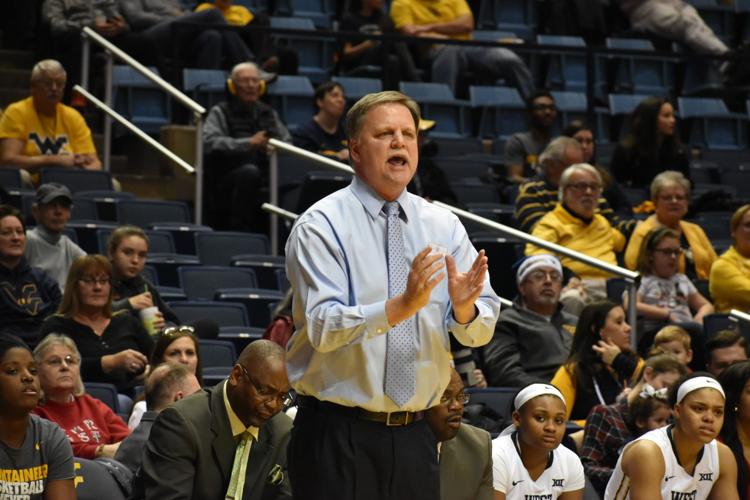 After the WVU women's basketball team's 63-57 loss to Baylor on Mar. 4, head coach Mike Carey had some things to say about where their next postseason destination should be.
"If we're not one of the teams (NCAA tournament) that's hard to believe and we're playing in the third best conference RPI wise in the country," Carey said.
Looking back on that, Carey must feel like a genius following his team's performance in the first round of the WNIT.
West Virginia (20-10) blew out Rider Thursday evening, 83-43.
The drubbing of Rider (19-13) saw three Mountaineers earn 20-point performances from Naomi Davenport, Tynice Martin and Kari Niblack.
Davenport and Niblack both finished the night for West Virginia with impressive double-double performances. Davenport registered 23 points and 15 rebounds while Niblack finished the night with 20 points and 13 rebounds.
Although not recording a double-double, Tynice Martin totaled 20 points alongside eight rebounds on the night.
"We had two people get a double-double and that was good…even Tynice had eight and those are the three we need to be rebounding for us right now," said Carey.
Through the opening four minutes of action inside the WVU Coliseum, both teams had combined for five points. That quickly changed as Tynice Martin's 11 first quarter points led the Mountaineers to a 19-11 advantage to end the opening quarter.
The second quarter saw Katrina Pardee register five points behind a layup and a three pointer, respectively. The half concluded with a pair of free throws off the fingers of Martin as well as a layup from Davenport.
Martin's first half 13 points and Davenport's 10 points in the opening half led the Mountaineers to a 34-24 halftime advantage.
With the announcement of Theresa Ekhelar's suspension due to a violation of team rules prior to Thursday evening's matchup, Niblack filled in the empty spot and rose to the occasion totaling 20 points.
"I think it was my quickness, I've been able to use that a lot this year with girl's a lot bigger than me, getting around them kind of fast so I just use that to my advantage," said Niblack.
Niblack controlled a majority of the third quarter alone, totaling 14 points single handedly in the quarter and joining Martin and Davenport as double-digit performers.
The final quarter saw West Virginia break things open with a 13-0 run which was highlighted by Davenport's eight points through that stretch.
The night finished with a 11-2 run by the Mountaineers to give West Virginia the 40-point, 83-43 drubbing.
"I thought the second half we played a lot better and we got in a rhythm a little bit, the first half we had no rhythm because people were out of position," explained Carey.
The Mountaineers will now face off against the winner of Villanova against Old Dominion in the second round on Sunday at 3 p.m.