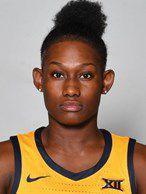 Tynice Martin, the leading scorer for the West Virginia women's basketball team last season, has been charged with domestic battery by the Morgantown Police Department.
This was first reported by The Dominion Post on Thursday night. Martin was previously suspended indefinitely on Aug. 3 for a violation of team rules.
According to court records obtained by the Daily Athenaeum Friday morning, police responded to an alleged domestic dispute on July 15. The investigation deduced that, after Martin arrived at the residence of an ex-girlfriend, Martin allegedly entered the residence and pulled the ex-girlfriend's hair. 
Afterwards, the ex-girlfriend was allegedly shoved, choked and beaten by Martin and another woman after being pushed into a storm door.
In a statement, WVU head coach Mike Carey said, "We are aware of the situation and it will be handled appropriately according to West Virginia University's policies and procedures surrounding student conduct."
The domestic battery charge comes on the heels of a citation for possession of a controlled substance on Dec. 29, 2018, according to The Dominion Post. Martin was not publicly punished for the issue but did sit out that night's game.
In February, Martin pleaded no contest to the possession charge before paying a fine earlier this month. 
Regarding the domestic battery charge, Martin was arraigned in Monongalia County Magistrate Court on Aug. 2. A court date has not yet been set.