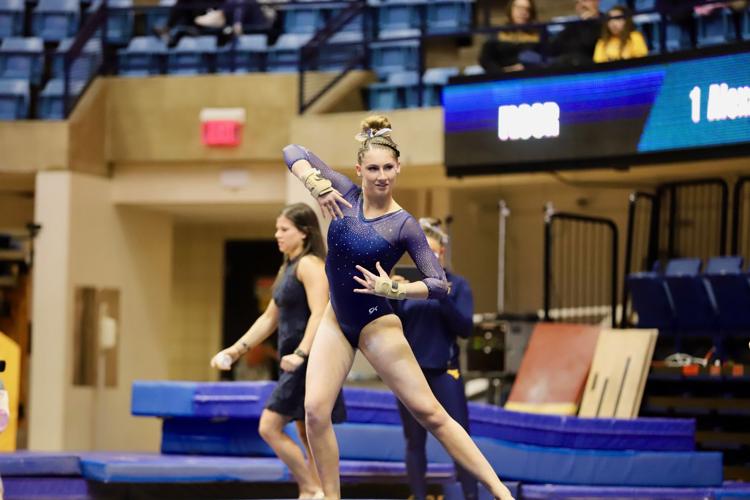 The West Virginia gymnastics team came in last place in a tri-meet at the Coliseum with the No. 7 Denver Pioneers and Iowa State Cyclones on Saturday night.
WVU (8-4, 0-3 Big 12) finished with a season-high score of 196.125, but it was not enough to overcome Denver's 197.45 or Iowa State's 196.7.
The two losses WVU took were its first since a Jan. 4 meet in Cancun, Mexico, where the Mountaineers finished third out of four teams. One of the teams West Virginia lost to in Cancun, though, was Iowa State (5-3, 2-1), making Friday their fourth-straight loss to the Cyclones.
"They went out. They attacked all four events," WVU head coach Jason Butts. "Still didn't have some of the little details fixed, especially on vault, so we could have gone a few tenths higher, but we had two great teams in here."
West Virginia was led by senior Kirah Koshinski, who competed in three events and finished with the team-high in all three.
Koshinski earned a 9.9 on vault, a three-way tie in the meet. She also earned a 9.875 on the beam and a 9.925 on the floor, good for a first-place tie.
"She's proving that she's bought into a system with that," Butts said. "She's just working her butt off and doing a great job in the gym."
Despite Koshinski's success, WVU ended the match in last place on vault with a score of 48.925. Iowa State came in first at 49.35 and Denver (10-1, 3-0) was second at 49.3.
Vault, however, was the only event the Cyclones came in first as they placed at second on the uneven bars and last on the balance beam and floor routines.
Denver came in first for the remaining three events with scores of 49.375 on bars, 49.375 on beam and 49.4 on floor.
West Virginia finished second on beam and floor at 48.85 and 49.375, respectively, and last on bars at 48.975
The Pioneers had a gymnast in first in all four events and were led by junior Maddie Karr, the all-around champion of the meet with a score of 39.7.
Along with Karr's first-place finish, Denver had the top four all-around participants of the meet.
After Friday's meet, West Virginia won't face another conference opponent until Feb. 24 when Oklahoma travels to Morgantown.
Before then, though, the Mountaineers have more than a week off before their next meet, a quad at Penn on Feb. 10.
Correction: An original edition of this article said the match occurred on Friday. That is incorrect. It happened on Saturday.