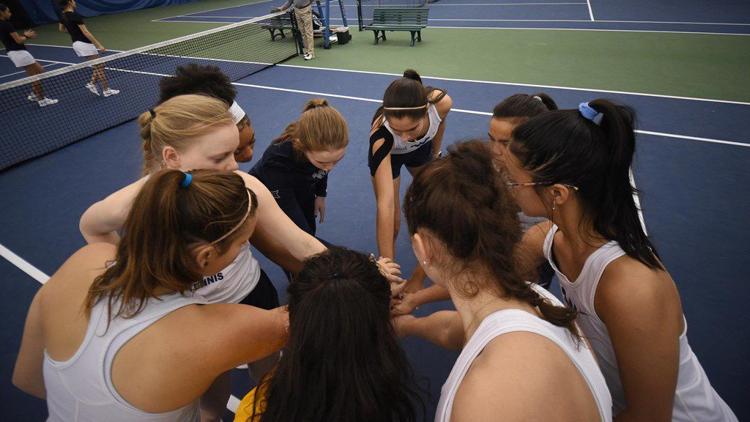 The West Virginia tennis team began its season in Pittsburgh Saturday with a 6-1 win over Duquesne.
The Mountaineers (1-0) won all but one match against the Dukes (2-1), and this season-opening victory marks West Virginia's first since 2014.
West Virginia and Duquesne began the match with doubles, and the Mountaineers' No. 3 seed team of junior Christina Jordan and sophomore Anne-Sophie Courteau finished first with a 6-2 win over Maddy Adams and Margot Pessy, setting the tone for WVU for the rest of the day.
Then, freshman Nicole Roc made her Mountaineer debut as part of the No. 1 seed team with senior Paula Goetz when they defeated Julianne Herman and Laurel Shymansky, 6-2.
The No. 2 seed team of junior Sofia Duran and freshman Anastasiia Bovolskaia finished off doubles play for West Virginia after they went to a tiebreaker and defeated Meredith Lee and Priyanka Mitta, 7-6.
"Today was a step in the right and a solid start to the season," said WVU head coach Miha Lisac.
Following doubles play, the Mountaineers were nearly perfect in singles play as No. 1 seed Jordan was the only Mountaineer to lose.
Jordan won the first set 6-3, but narrowly lost the second 7-6 to force a tiebreaker. In the super tiebreaker, though, Herman defeated Jordan, 10-5.
   Despite Jordan's loss, Roc continued her impressive debut as she won as the singles' No. 3 seed, 6-4 and 6-1.
Giovanna Caputo dominated as the No. 6 seed with a 6-1 win in both sets and Courteau won in her No. 5 seed match against Duquense's Pessy, 6-2 and 6-4.
Freshman Anastasiia Bovolskaia continued her outstanding season with a 6-3 and 7-5 win in two sets as the No. 4 seed on Saturday. 
Sofia Duran battled against Laurel Shymansky in the No. 2 seed match. Duran won the first set 6-3, but was bested 6-2 in the second set to force a super tiebreaker. Duran fought hard and came out victorious as she won 6-4 in the super tiebreaker.  
Following their match against Duquesne, the Mountaineers will remain in Pittsburgh Sunday as they face Pitt at 1 p.m. in the Backyard Brawl.