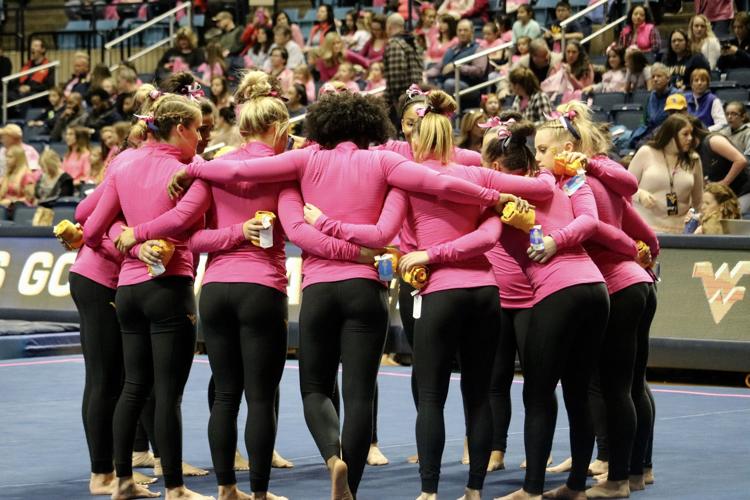 The West Virginia gymnastics team will be traveling to Ames, Iowa, this Friday to face Iowa State, Yale and Northern Illinois at a quad meet hosted by the Cyclones.
West Virginia is coming off of an exciting sweep in Davis, California against UC Davis and Illinois-Chicago, where it finished with a score of 195.05.
"The energy from this team on the sidelines was just as exciting as the routines," said associate head coach Travis Doak in an interview with WVUsports.com. "Our floor routines were captivating to watch, and their showmanship this early in the season is so impressive. We're going to see great things from this lineup this year."
This weekend's trip to No. 24 Iowa State will also be the first meet of the season that WVU will be facing a Big 12 opponent, and it just so happens to be on the Cyclones home mat. ISU is currently holding a season-high of 195.275 and pushed past the Mountaineers for a spot in the top 25 this week. West Virginia currently stands right outside the top 25 at No. 27.
ISU's Haylee Young, Kelsey Paz and Meghan Shievers each individually scored more than 39.000 in the Cyclones' most recent meet against Texas Woman's University.
Yale will be entering the meet with a season-high score much lower than that of the Mountaineers at 192.050, which the team most recently achieved in a third place finish in a meet against North Carolina, Towson and Ursinus.
Jacey Baldovino, a freshman gymnast for the Bulldogs, hit a score of 9.600 on the balance beam and received the highest score for Yale in the meet.
Baldovino's all-around score was a 38.825, and the two Bulldogs next in line were Jade Buford with a score of 28.625 and freshman Alyssa Firth, who ended the meet with a 37.125.
Northern Illinois is entering the meet with a season-high score of 195.2. The Huskies most recently fell to Central Michigan at home. In the loss, NIU's senior captain, Ashley Potts, finished with the sixth-highest all-around score in Northern Illinois program history with a 39.350.
With two Mountaineers ranked in the top 50 in the country, Kirah Koshinksi at No. 23 in vault and Zaakira Muhammad at No. 40 in all-around, a strong finish at this meet is crucial for these ranks to improve as well as the team's standing to improve.
The meet at Iowa State is slated for a 7:30 p.m. ET start.