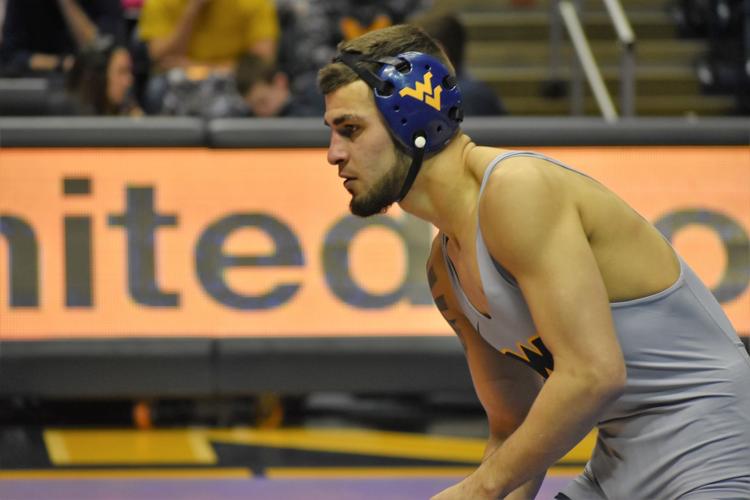 The Mountaineers finish strong but their middle of the lineup struggles continued in their regular season finale against South Dakota State, losing 22-19.
Matthew Schmitt started the match off strong for the Mountaineers with a major decision in the first bout of the day, to give the team an early 4-0 lead. But South Dakota State answered fast with a win by decision in the next bout bringing the score within one.
The biggest bout going into the match was the 149-pound weight class between No. 16 Christian Monserrat and No. 17 Henry Pohlmeyer. Monserrat won by a 5-1 decision giving the Mountaineers a 7-3 lead after three.
After Monserrat's big win, the Mountaineers fell flat losing their next four bouts including a major decision and two pins. Giving the Jackrabbits a commanding 22-7 lead.
Redshirt Freshman, Noah Adams wrestling on his birthday was able to pick up the first win since the third bout of the match with a major decision over Martin Mueller to bring the score to 22-11 with two bouts remaining.
Following Noah Adams, Brandon Ngati was able to pick up a huge win by decision over Blake Wolters. but it was too little too late with one bout remaining and still trailing by eight points, 22-14.
Devin Brown was the last wrestler of the night for the Mountaineers. Trailing by eight points Brown did his best and picked up an 18-3 tech fall, which is worth the most points. But it was still not enough as the Mountaineers lose 22-19.
Looking ahead, the team has just under two weeks before they have to travel to Tulsa, Oklahoma for the Big 12 Tournament. Following the tournament, a couple Mountaineers could have a shot to compete for a national title two weeks later in Pittsburgh.
For the rest of the team, the season will end at the Big 12 Tournament, following a rough first season for new head coach Tim Flynn. Although the season ended with a 4-14 record in duals, the team had a lot of young guys show that they can be a very good team in the upcoming years.