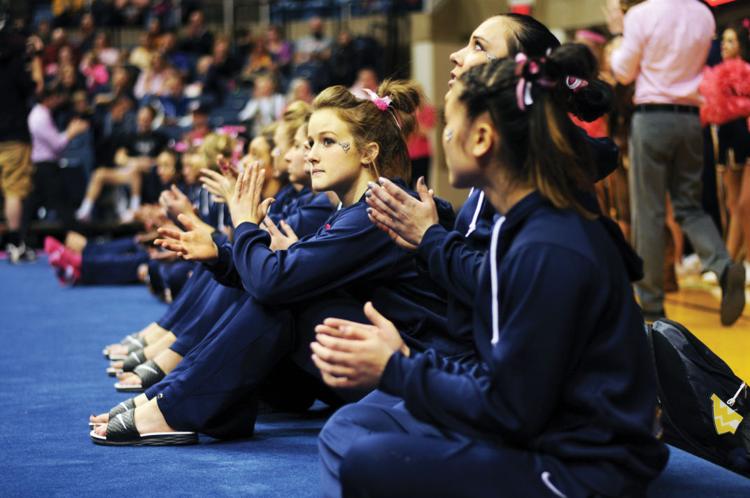 West Virginia University athletic director Shane Lyons released the upcoming gymnastics season on Wednesday.
The Mountaineers, who finished third in the NCAA Morgantown Regional in 2017, start off the season with three home meets in January with Florida, Arizona State, George Washington and Towson.
"We can sharpen our gymnastics at home in January," Jason Butts, WVU gymnastics head coach, said. "We're bringing some talented squads into the WVU Coliseum, and I think our fans will really enjoy this home schedule."
West Virginia follows up with road trips to California, the Midwest and the Rockies before joining the wrestling team to host the "Beauty and the Beast" event at the Coliseum on February 18. The wrestling squad will play Clarion, the gymnastics team will play Maryland and Pitt in a tri-meet.
"It's a brutal travel schedule this year, but every team across the nation is forced to travel," Butts said. "I think we will have some great opportunities for road scores this season. The team is aware of the tough road ahead of us, but they're looking forward to competing in front of different crowds and showing off WVU gymnastics."
The Mountaineers complete the season with trips to Oklahoma, Pitt, George Washington and Towson before the Big 12 Championships in Ames, Iowa.
The NCAA Gymnastics Championships will return to Saint Louis University for the second straight year.
WVU finished the 2017 season ranked 20th in the national rankings with a 13-10 record.
2018 Gymnastics Season
| Date | Opponent | Time (TV)/Result (Record) |
| --- | --- | --- |
| Fri., Jan. 5 | No. 2 Florida | L 195.9-194.425 (0-1) |
| Sun., Jan. 14 | No. 14 Arizona State | L 196.475-195.875 (0-2) |
| Sun., Jan. 21 | George Washington | 2 p.m. |
| Sun., Jan. 21 | Towson | 2 p.m. |
| Fri., Jan. 26 | at UC Davis | 10 p.m. |
| Fri., Jan. 26 | vs. UIC (Davis, Calif.) | 10 p.m. |
| Fri., Feb. 2 | at No. 15 Iowa State | 7:30 p.m. |
| Fri., Feb. 2 | vs. Northern Illinois (Ames, Iowa) | 7:30 p.m. |
| Sat., Feb. 10 | at No. 7 Denver | 8 p.m. |
| Sat., Feb. 10 | vs. George Washington (Denver) | 8 p.m. |
| Sun., Feb. 18 | Maryland | 2 p.m. |
| Sun., Feb. 18 | Pitt | 2 p.m. |
| Fri., Feb. 23 | at Oklahoma | 7:45 p.m. |
| Sun., Mar. 4 | at Pitt | 2 p.m. |
| Sun., Mar. 4 | vs. Penn State (Pittsburgh) | 2 p.m. |
| Sun., Mar. 11 | at George Washington | 1 p.m. |
| Sun., Mar. 11 | vs. Pitt (Washington) | 1 p.m. |
| Sun., Mar. 18 | at Towson | 2 p.m. |