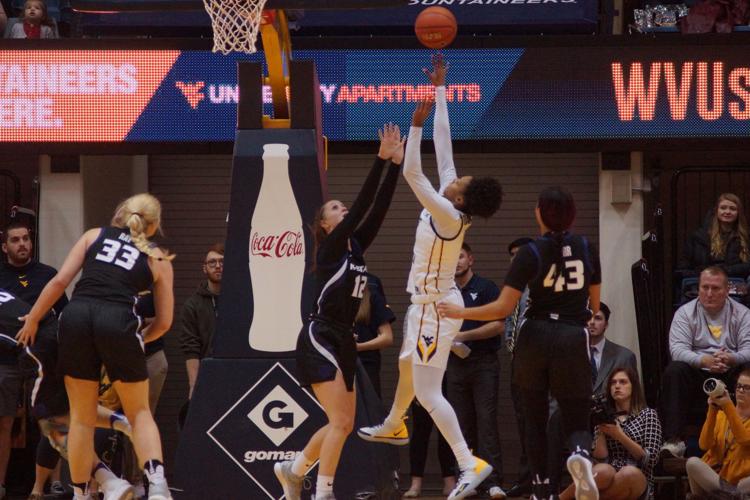 Thanks to miscues on both sides of the ball, the West Virginia women's basketball team was defeated by Kansas State on Wednesday night, 90-79.
Despite the game being tied at five separate points, a strong Wildcat defense put the clamps on the WVU offense late — holding them to make only one of their last seven field goal attempts.
West Virginia (19-8, 10-6 Big 12) faltered on defense as they gave up a whopping 34 points in the fourth quarter. The struggles seemed to get worse as the game progressed as WVU gave up an increasing number of points per quarter as the night came to an end.
Kansas State (18-10, 9-7) finished the night converting just over half of their shots as they knocked down 51 percent of their field goal attempts. Three separate Wildcats finished with 20 or more points.
WVU, in comparison, struggled to make shots as they went 26-for-69 from the field, making only 38 percent of their attempts. They were led by junior guard Tynice Martin who ended the night with 27 points and eight rebounds.
Forwards Naomi Davenport and Kari Niblack were the only other Mountaineers to finish with double digit scoring as they finished with 19 and 10 points, respectively.
Outside of scoring, West Virginia was beaten by Kansas State in total rebounds, points in the paint, blocks and assists. One of the bright spots for WVU lied within their reserves as they ended the night with more bench points, 15-8.
Up next, the Mountaineers will travel to Lawrence, Kansas to take on the Kansas Jayhawks on Saturday. Tipoff will be at 8 p.m.