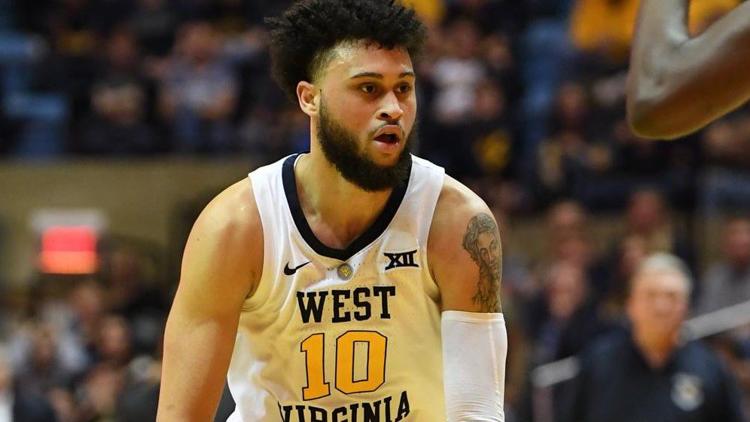 The opening five minutes of action Monday evening seemed like it was going to be a similar story following the Mountaineers first round victory over Grand Canyon State. However, that's where it all ended for the Mountaineers.
The West Virginia men's basketball season ended in a fitting manner Monday evening after being demolished by Coastal Carolina, 109-91.
Emmitt Matthews Jr. and Lamont West led the Mountaineers with 21 points apiece on the night, followed by Chase Harler who notched 15 points, Jermaine Haley who totaled 12 points and Jordan McCabe and Derek Culver who each recorded 11 points.
Coastal Carolina proceeded to run away with a 10-0 stretch through three minutes of play to take the 17-8 lead midway through the opening half. The Chanticleer offensive spark was led by an Ajay Sanders and a Devante Jones pair of three-point knock downs.
"We didn't make shots…we didn't pass the ball, you come out of a timeout with a set play and they don't know what they're doing, that part's really frustrating," explained WVU head coach, Bob Huggins.
With slim hope and trialing by 12 points with 10 minutes remaining in the opening half, Harler nailed a three pointer to bring the Mountaineers back within striking distance at nine points, 26-17.
With over a minute remaining before halftime, Sanders knocked down a three pointer and Tommy Burton nailed a pair of free throws to put the Mountaineers in a 16-point hole.
Following an Emmitt Matthews Jr. layup, Coastal Carolina headed into the half ahead, 50-36.
Culver didn't step on the court until the beginning of the second half but was successful in the half, recording 11 points and two rebounds through 18 minutes of action.
"He was late…you've got thirteen guys on one team, you can't do everything in the world for one guy when it's detrimental to twelve others," explained Huggins on Culver's lack of playing time.
After sharing back and forth points and possessions, Coastal Carolina ran away with a 15-5 run to take the 69-47 advantage with 15 minutes remaining in the game.
As the game clock ticked down, the Mountaineer deficit ticked up as only three minutes later, the Chanticleers took a commanding 25-point, 80-55 advantage following a Jones three pointer.
"We had no bounce, had no pep in our step, they got to every loose ball…I didn't see it coming," said Huggins on his team's struggles.
The Chanticleers held onto their twenty-point advantage the remainder of the night until the final minute in-route to a 109 – 91 Mountaineer crushing.
Although falling to Coastal Carolina, West Virginia shouldn't hang their heads after securing a pair of victories in the Big 12 tournament following the dismissal of four separate players throughout the enduring season.
"People are going to shake their head and laugh or scoff when I say that, I think this is a team don't be surprised if we are in the final four next year as crazy as that sounds coming off a CBI loss," explained McCabe on next season's outlook.
The Mountaineers will now begin preparing for next season with two incoming committed freshmen in Miles McBride and Oscar Tshiebw who hope to contribute to the West Virginia men's basketball program next season as well as a mix of experienced veterans.