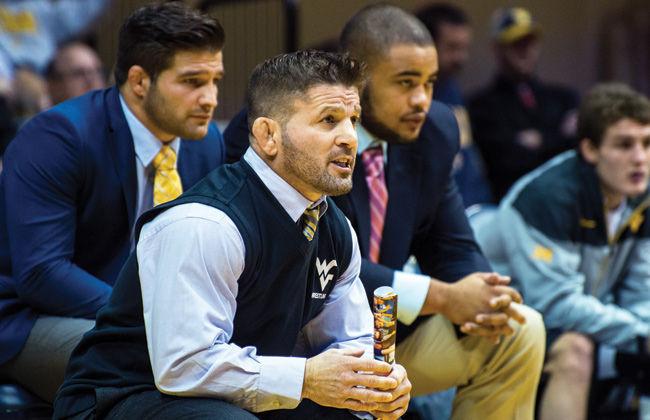 The West Virginia University wrestlers will be in Blacksburg, Virginia, waiting anxiously as they'll once again face the Virginia Tech squad.
While in Las Vegas in the beginning of December for the Cliff Keen Invitational, WVU and VT were able to size each other up; the tenth-ranked Hokies will find the Mountaineers fully prepared for the face-off when they welcome them to the Cassell Coliseum.
"Scouting and doing your homework is everything," head coach Sammie Henson said. "We do it before each dual, and you hope that your scouting report is right and good things happen. We view everyone the same, whether we're wrestling the number one team or 15 or whatever it is; our preparation is no different."
Of those scouted highly will be the matchup in the 133-pound weight class. Matthew Schmitt (13-5) will once again meet Hokie Dennis Gustafson. In Las Vegas, Schmitt fell in a 6-2 decision, but he's ready for revenge.
"It was a tough first match," Schmitt admitted. "He eliminated me out of the [Cliff Keen Invitational], so to upset him in front of his home crowd would be awesome. Going into New Years and Christmas break, that would be a sweet way to end the year. If I up the intensity this time, I think I'll come out on top."
Another highly touted match will occur in the 197-pound weight class. In a battle of the West Virginians, Jake Smith, of Charleston, will take on Jared Haught, of Parkersburg. Smith (1-0), who is ranked as high as fifth in the Intermat and FloWrestling polls this week, will look to continue the success after coming out victorious in his debut against Pitt via 5-2 decision.
"They have history in West Virginia, so that's a great matchup," Henson said.
The Mountaineers are 0-2 all-time in the Black Diamond Brawl, which began during the 2015-16 season; during those duals, the Hokies have outscored the Mountaineers 68-7, but Henson said that this season's Mountaineer team is special.
"We have a lot of competition in our classes, and that breeds success," he said. "Iron sharpens iron, and it's only going to lead to us to being better each time we go out. I'm excited about how young our guys are and how we're maturing. I think that's huge for us."
The dual will begin at 7 p.m. and will be broadcast on the ACC Network through ESPN.com.