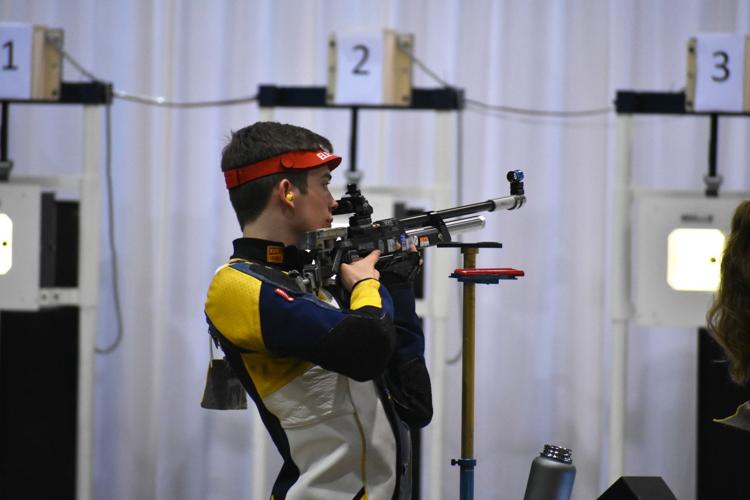 The West Virginia University rifle team scored a 4711 in the team's NCAA qualifying match at the Bill McKenzie Rifle Range.
The Mountaineers are 13-0 (9-0) and today's score will be factored into the ranking average for the NCAA tournament.
WVU shot a 2383 in air rifle and a 2328 in smallbore.
Sophomore Morgan Phillips led WVU in both disciplines, shooting a 586 in smallbore and a 597 in air rifle. Her 597 tied her career high score in air rifle.
"Morgan had a great performance. She worked really hard in practice this week, and I think she came out more mentally prepared today," said head coach Jon Hammond.
She also shot a school- record matching 199 in the kneeling portion of smallbore.
"I was happy with how kneeling went. I've been shooting pretty good kneeling in practice, and I was happy to see it come together in a match," said Phillips.
Elizabeth Gratz finished second in air rifle with a 596. Ginny Thrasher and Milica Babic tied for third place, shooting 595.
In smallbore, Babic took second place with a 582, while Thrasher and Gratz both score 580. David Koanders and Sarah Osborne each shot a 576.
Hammond said "I think we'll keep working on smallbore individually. I think they'll find out what they need to improve on."
The five shooters who combined for the total score was: Babic, Gratz, Koanders, Phillips, and Thrasher.
NC State, who WVU beat early in the season, shot alongside of the Mountaineers and scored a 4632.
As the Great American Rifle Conference (GARC) champion, WVU hosts the GARC championships next weekend, February 24 and 25. Smallbore will take place on Saturday and air rifle will be shot on Sunday.