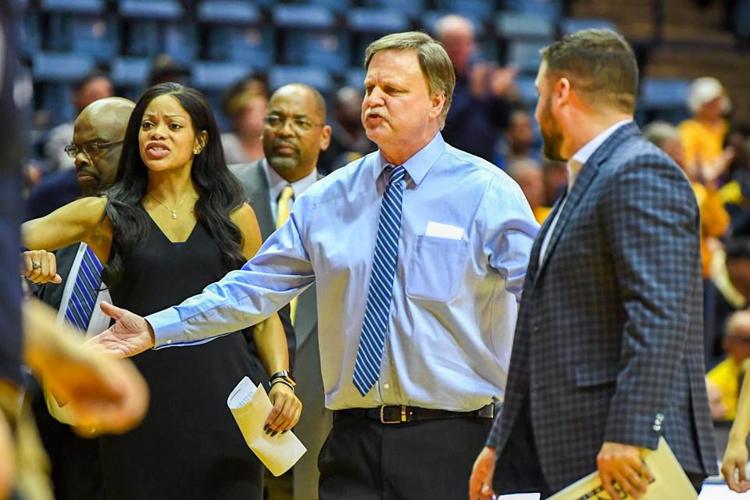 The West Virginia women's basketball team's season ended on Wednesday night after a 56-54 loss to Northwestern in the third round of the WNIT.
The Mountaineers (22-11) opened the game with a 21-9 lead after the first quarter, but the lead evaporated after scoring only nine points in the second quarter and failing to score in the final 5:27 of the half.
What was once an 18-point lead was cut down to five at halftime, and then Northwestern took its first lead of the game with 40 seconds to go and was able to win.
"Give credit to Northwestern," WVU head coach Mike Carey said. "They were behind the whole game, came back, took the lead and won it."
Two turnovers in the final minute of regulation led the Wildcats (19-14) to taking the lead, and ending the Mountaineers' season.
"Believe me, we did what we could do to lose that game down the stretch," Carey said.
Both teams struggled to score, and with struggling to score came poor shooting from both the Mountaineers and Wildcats as West Virginia finished shooting 33 percent from the field and Northwestern was at 36 percent.
Despite the scoring challenges, the Mountaineers had three players in double-figures, being led by redshirt junior guard Tynice Martin's 17 points, who announced after the game she was returning for her senior season at WVU.
Joining Martin in double-digit scoring was senior guard and forward Naomi Davenport and freshman forward Kari Niblack.
It was the third straight game in double-figure scoring for Niblack after her 14-point effort, and she tied her career-high in minutes played with 38.
Northwestern controlled the glass against WVU, finishing with a 42-33 advantage in rebounds, and a 20-2 lead in second chance points.
Doing much of the damage for the Wildcats was senior forward Pallas Kunaiyi-Akpanah, who finished with 19 rebounds — 10 of which came on the offensive end.
The Mountaineers now shift their focus to next season, when they lose three players from this season's team to graduation in Davenport, Katrina Pardee and Theresa Ekhelar, but will have four returning starters.
"We need to move," Carey said. "Move to the future, get better as players, get better as coaches and see who we have with us, who we don't have with us and evaluate things for next year."