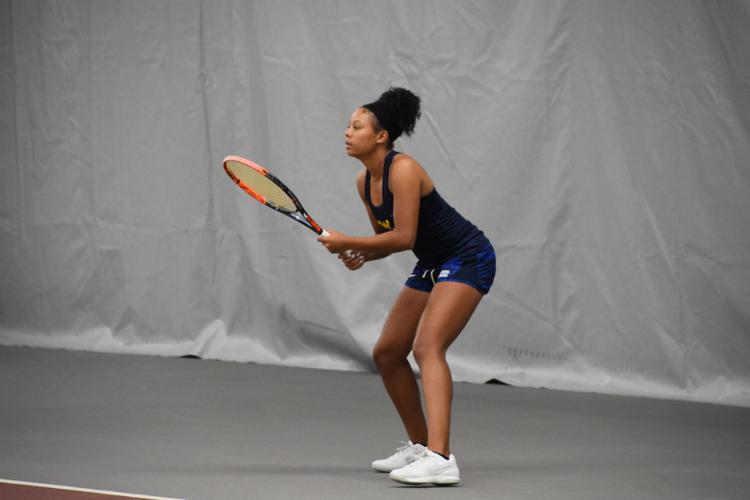 West Virginia picked up their first loss on Sunday as they fell to Iowa State, 6-2.
This was the first Big 12 match of the season for both teams as Iowa State was able to get revenge for their loss last year to WVU (2-1, 0-1 Big 12) to get to 3-2 on the season.
Iowa State (3-2, 1-0) started the morning strong winning both doubles matches. The first seed doubles had Paula Goetz and Nicole Roc of WVU facing Maty Cancini and Annabella Bonadonna of ISU. Roc and Goetz lost the match 6-1. The third seed doubles didn't fare much better for the Mountaineers as Giovanna Caputo and Abigail Rosiello were defeated 6-2 by Margarita Timakova and Ekaterina Grib of the Cyclones.
As the singles matches began, West Virginia had a lot of ground to make up. WVU dropped its first four singles matches of the morning as Roc was defeated 6-2 and 6-1 by Ekaterina Repina in the fourth seed match. Sofia Duran also suffered a defeat in the third seed singles to Regina Espindola, 6-1 and 6-4.
First seed Christina Jordan lost 6-3 and 6-4 to Iowa State's Cancini. Anastasia Bovolskaia was defeated 6-4 and 6-2 by Bonadonna in the fifth-seed match. West Virginia was able to end on a high note as Goetz and Anne-Sophie Courteau won their singles matches.
Goetz won 6-2 and 7-5 to start the season 2-0 in singles play. Courteau won the first set 7-5 but lost the second 6-2 to send the match into a super tiebreaker. Courteau won 10-7 in the tiebreaker to earn her second singles victory of the season and her fourth overall victory.
The second seed doubles went unfinished as the final score of the meet was 6-2 in favor of the Cyclones.
The Mountaineers will host their first home matches of the season next weekend as WVU faces Cleveland State on Friday at 1 p.m. and Akron on Saturday at 1 p.m.