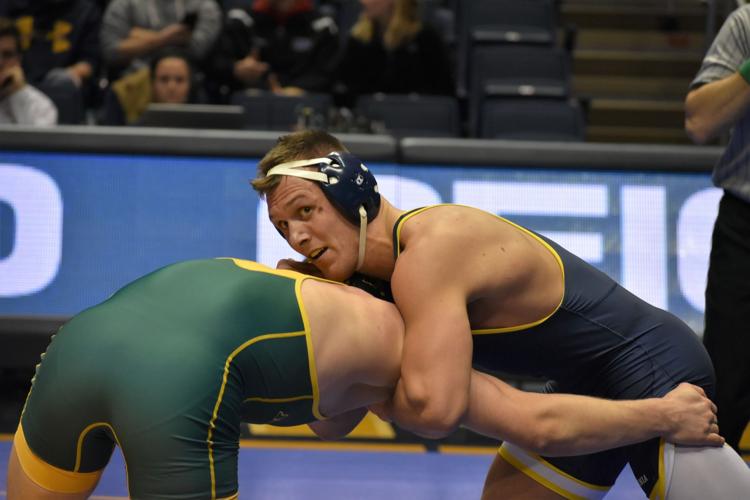 The West Virginia wrestling team is headed to Stillwater, Oklahoma to face the Cowboys of Oklahoma State.
The Cowboys are ranked fifth in the country at 6-1 and 3-0 in the Big 12, but are on a one-match losing streak after falling to the Iowa Hawkeyes, 20-12. Oklahoma State is the sixth ranked opponent that the Mountaineers have faced this season.
The Mountaineers are 3-3 and 2-1 in conference, and are coming off two straight wins over ranked opponents. Since Jan. 4th, WVU has beaten 18th-ranked Oklahoma and 25th-ranked North Dakota State, both conference opponents.
WVU will look to continue the Big 12 win streak against the highly-ranked Cowboys, but being away from Morgantown will create some issues, especially if WVU doesn't represent well early on. The Cowboys' early weight classes are forces to be reckoned with on the leaderboards, and hosting the matchup will only work in Oklahoma State's favor, as West Virginia has gone 0-1 in away matches thus far in the season.
"We are going to enter Gallagher-Iba Arena, and they are going to have their fans," head coach Sammie Henson said. "They are awesome, and I think our wrestlers need to embrace that environment. They need to embrace being the bad guys. We are the visitors. I think it's going to be one exciting match."
The Cowboys dominated the rankings the week, with eight wrestlers claiming spots to the Mountaineers' two. Zeke Moisey (125) and Jake Smith (197) will propel the highly anticipated match. Moisey's opponent, Nick Piccininni, is seventh nationally on InterMat; Smith's match is important specifically because this will be the fourth, and last, time that Smith will meet his opponent, Preston Weigel. Last season, Smith fell to Weigel in a first period takedown, in 2 minutes and 24 seconds, in the Big 12 Championship and sustained the ankle injury that he spent the next months rehabilitating.
Other matches to watch are 133 and 141. Oklahoma State has dominated the competition at the lower weights this season, going 42-7 in 125, 133, and 141. In comparison, Moisey and Matthew Schmitt together have produced a collaborated 15-6 season record.
"It's going to be a tough match," Henson said. "We are wrestling one of the most historic programs in the country."
The match will start on Friday at 8 p.m. at Gallagher-Iba Arena in Stillwater and every weight class will be streamed on FloWrestling.com. A subscription is required to follow along on the stream, but statistics are available at the link at wvusports.com.