Two members of the West Virginia University track & field team will compete in the NCAA Outdoor Track & Field Championships.
Amy Cashin and Shamoya McNeil will compete in this weekend's competition at Hayward Field in Eugene, Ore.
Cashin, a senior from Werribee, Australia, will participate in the 3,000 meter steeplechase after recording a school record of 10:01.19 at the NCAA East Preliminary.
McNeil, a junior from Portland, Jamaica, clinched a spot in the triple jump by jumping 13.04 meters to just make the cut. She currently holds the second-best recorded distance in program history after reaching 13.21 meters at the Big 12 Championships in May.
Spot the jumper #NCAATF #takingoneugene pic.twitter.com/kLLgCAYMmm

— Amy Cashin (@AmyCashin) June 7, 2017
"We are thrilled to have these very special student-athletes competing in what is the finest track and field meet outside of the Olympics," said WVU track & field coach Sean Cleary. "This will be Shamoya and Amy's first time competing at the outdoor championships. Both prepared well and have had exceptional seasons leading into this event. Running in front of crowds in excess of 12,000 should provide an atmosphere second to none. We are excited to get this meet underway and bring home some memorable moments and first rate experience."
Hayward Field is on the campus of the University of Oregon. It is one of most renowned track & field venues in the world and helped pioneer some of the technology that went in to Nike shoes. It is also a frequent host of the U.S. Olympic Trials.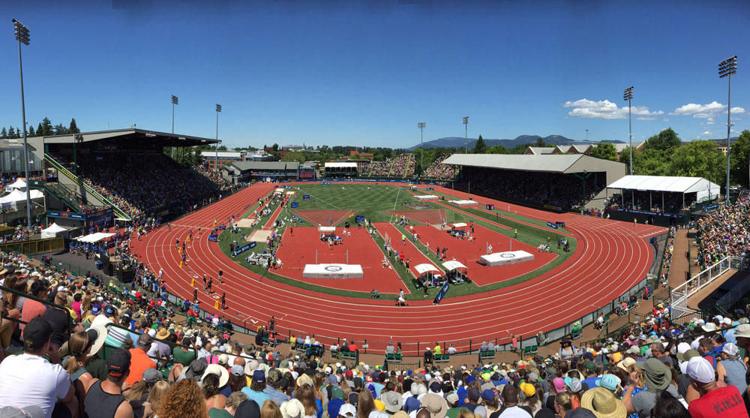 This is the first NCAA Outdoor Track & Field Championships for both athletes and the first for West Virginia since 2015, when Katie Gillespie finished ninth in the 10,000 meter run. The Mountaineers have not won a national individual title since 2005, when Megan Metcalfe won the 5,000 meters.
The semifinals for the 3,000 meter steeplechase, which Cashin is competing in, will take place on Thursday at 8 p.m. and will air on ESPN2. McNeil will compete in the triple jump finals on Saturday at 6:40 p.m. and that will air on ESPN.