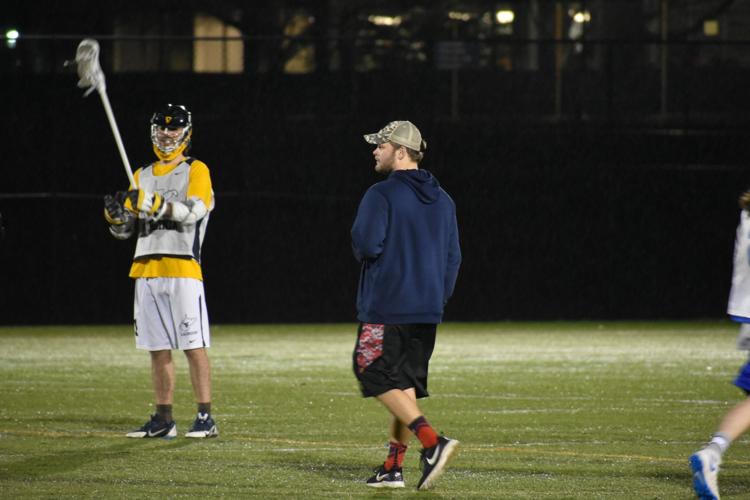 Going into their season opening exhibition against Marshall, the West Virginia University lacrosse team is as excited as ever to begin the year.
Head coach Brian Houk believes the Mountaineers have a lot of potential to compete this season after three weeks of practice.
"We're really young, but we're really talented," Houk said. "I've seen clear improvment from fall ball to now, from a few weeks ago until now. These guys are working hard. We're still finding our identity but I think tomorrow is going to be a big first step in seeing what we're made of."
Houk wasn't kidding when he said his team was young. Of the 31 players on the team, 17 are freshmen.
The lone senior on the team, midfielder Jon Welsh, has had no problem gelling with the young guys on the team.
"All the young guys understand that I'm the only senior and they want to help me come out here and win games and go out on a bang," Welsh said. "It's nice. They all respect me as a senior."
General manager Jim Mills believes that this is the most exciting he's seen the Mountaineers in four years.
"I agree," Welsh said. "This being my third year here, this definitely the most excited we've been going into the first trip and probably the most potential I've seen out of the team the first three years as well."
The Mountaineers have a stacked schedule, starting out the regular season with a trip to North Texas for the first-ever Big 12 round robin tournament.
"I'm looking forward to the first-ever Big 12 showdown," WVU team president and long stick midfielder Carter Smith said. "That's going to be pretty impressive."
West Virginia also hosts a four-team Southeastern Lacrosse Conference round-robin in Greenbrier County in late March and close out with the season with a pair of games in Buffalo, New York.
WVU opens up the season on Friday with an exhibition against in-state rival Marshall at Pro Performance at Mylan Park. The face off is scheduled for 9 p.m.
2018 Lacrosse Season
| Date | Opponent | Time/Result (Record) |
| --- | --- | --- |
| Fri., Feb. 16 | Marshall (exhibition) | W 16-0 |
| Fri., Feb. 23 | vs. Baylor (Prosper, Texas) | W 18-12 (1-0) |
| Sat., Feb. 24 | vs. Texas Tech (Prosper, Texas) | W 11-8 (2-0) |
| Sun., Feb. 25 | vs. Oklahoma (Prosper, Texas) | L 15-6 (2-1) |
| Sat., Mar. 3 | at No. 17 Liberty | 3 p.m. |
| Sat., Mar. 31 | at Tennessee | TBD |
| Sun., Apr. 1 | vs. No. 8 Virginia Tech (Knoxville, Tenn.) | TBD |
| Thu., Apr. 5 | vs. George Washington (Martinsburg, W. Va.) | TBD |
| Fri., Apr. 6 | Central Michigan | 8 p.m. |
| Sun., Apr. 8 | Appalachian State | Noon |
| Thu., Apr. 12 | Pitt | 8 p.m. |
| Fri., Apr. 13 | at Ohio (exhibition) | 7:30 p.m. |
| Sat., Apr. 14 | East Tennessee State (exhibition) | Noon |
| Sun., Apr. 15 | East Carolina | Noon |
| Fri., Apr. 20 | at Buffalo | 8 p.m. |
| Sat., Apr. 21 | vs. No. 18 Connecticut (Amherst, N.Y.) | 4:30 p.m. |